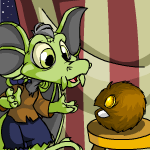 The Magical Coconut Mission: Part One

by anjie

--------

Also by chivo

AUTHOR'S NOTE: The writers of this series would like to offer the following disclaimer. Coconut Shy is not rigged. Employment conditions within the Haunted Woods are fair and just. It is safe to walk the paths of said woods at night, and in no way should any Quiggle be judged simply because he chooses to run a crooked carnival game or go weeks without washing his only outfit. We say this of our own free will and not in the least to avoid having flaming coconuts hurled at us. Thank you.

The shadows cast by barren trees grew longer as the hour passed into night, the paths of the Haunted Woods seeming to transform from eerie to ominous as twilight passed. Leaves drifting slowly to the ground sounded like footsteps and the moon hid behind the veil of clouds, as if it too were afraid to show its face in the Haunted Woods when darkness fell. Mist rolled in from seemingly nowhere, often rendering travellers forever lost within its depths if they didn't know the trail well enough.

From the swirling, twisting traces of fog a cloaked figure hurried, wrapped warmly against the bitter winds of the evening. He walked the paths as if he knew them well, and had walked them a million times. One could only conclude he was a resident of the spooky realm, and marvel at what kind of creature would chose to make their home here.

As he passed by the sinister glow emitting from Edna's tower, the hood of the creature's cloak fell backwards, revealing Phobic, a small, acidic green Halloween Draik, a well known sight within the area.

He scuttled along the path farther, glancing up at the cloaked moon and hastening his pace, determined not to linger out in the open longer than need be. Even for a local, the Haunted Wood's dark trails were rarely a friendly place to be.

Pho hurried to the cast iron gates of the Deserted Fairground. A place that seemed to sinister to many was little more than an everyday occurrence for him. He slipped past the fence and vanished inside the shadowed, empty carnival.

Just inside the perimeter stood a rickety stand, its banners tattered and torn. A battered sign hung at a rather absurd angle and declared this game to be called 'Coconut Shy'. It was here that the Draik cast his cloak aside and quickly scurried toward the back of the stall. He had only been there a second when a loud screech rang out.

"Phobic? Is that you? You're late, you worthless twit!"

This flattering statement was uttered by the most grotesque creature one could possibly imagine. A plump, warty Quiggle, who lumbered from the front of the stall with a look of distaste plastered across his unappealing features. His striped trousers were grubby and had been patched and torn again many times, his shirt stained with the remnants of several previous meals. With a snort of revulsion, he addressed Pho, who cowered a little.

"I don't pay you a Neopoint per hour to play around in the woods and be late! There are coconuts to be unpacked and stacked!"

The Draik bowed his head, nodding. It wasn't much of a job, but work in the woods was scarce, and one took what one could get!

The Quiggle's yellow gaze narrowed.

"And make sure you nail the coconuts to the stands carefully this time, Draik! I lost a good pocket of change this morning when some nasty Kacheek knocked one down!"

Phobic couldn't help hiding a grin. Just because the stall owner was a dishonest beast didn't mean he had to help fill his already bulging pockets with change by fixing a game that was hard enough already. Leaving the Quiggle to amble back to the front of the stall and irritate passers-by with his beckoning cries to entice the foolish toward the game, Pho headed out back to find the coconuts his boss mentioned.

Although actually knocking a coconut off its stand was a rarity, thanks to the stall owner's wicked cheating, it did happen now and then. When such a thing occurred, the coconut was given to the lucky pet, and new coconuts had to be found to replace the winning one.

Every week a rather dubious looking Lupe, tattered and vicious, would deliver a crate full of new coconuts. Some would already be broken; others would turn out to be cheap items disguised as coconuts. Pho wasn't surprised. He wasn't foolish enough to imagine his boss would employ a supplier who was anything less than shady.

With a sigh, he bent down to inspect the stock that had arrived. Several normal coconuts, a couple that were cracked. Here and there was a ball painted to look like a coconut. The Draik shook his head, and gathered a pile of the round, hard fruits, wandering over to the stands to fix them in place. He got four attached to their platforms, and went back to find another. Reaching into the box, he gave a sudden gasp as something nipped at his claws.

Pho froze. He had unpacked many off things disguised as coconuts before in this job, but never anything that had bitten him before! Timidly he tiptoed back up to the box, and peered inside. With a start, he noticed two shimmering, golden eyes staring right back at him. Despite a life living within Neopia's scariest world, even Pho's nerves didn't stand up well to this, and he gave a squeak of fear.

The eyes slowly blinked, then much to the Draik's shock, something within the box spoke.

"Are you going to sit there and whimper, or let me out of here, creature?"

The voice was deep and rumbling, each word accentuated by a strange accent Pho hadn't ever heard before. Trembling, he reached into the box and withdrew a coconut. Round and an earthy brown like the others, it was very much distinguished by golden eyes, each small orb shimmering like sunlight itself, and just below its gaze, a small opening of a mouth. Dumbfounded, the Draik just gazed at the thing he now grasped.

"Have you not seen a magical coconut before, Draik?"

The enquiry brought Pho to his senses, and he slowly shook his head, hardly able to believe he was having this conversation.

"No... I mean, not one who I've had a conversation with."

Rumbling laughter emitted from the coconut.

"I am no mere fruit, you know. I am the sacred coconut of Mystery Island. Guardian of the Island JubJubs whose tribal home lie at the foot of Techo Mountain."

Pho nodded slowly, letting the coconut continue.

"I was stolen from them, Draik."

Phobic nodded sadly.

"My boss employs a Lupe to gather coconuts from him. I'm not surprised he's stealing them."

The coconut's gaze shimmered in concern.

"My situation is dire. Without me to protect the Island, and my magic to keep things well, Mystery Island will fall into shadow. I keep the jungle's green, the beaches golden. Tranquillity and serenity occur as long as I am in the possession of the coconut JubJubs."

"So without you, the island is in danger?" Phobic enquired softly.

"Without me, the Island will perish."

Pho gazed at those glowing eyes, and couldn't help but feel somehow partially responsible. He might not have ordered the coconuts, but he certainly worked for a wicked beast who had. Painting a ball brown and pretending it was a fruit was one thing, but stealing a tribe's sacred magical object was another thing altogether. His boss certainly wouldn't be returning the coconut to the JubJubs. In fact, if the Quiggle worked out it was somehow valuable, who knew what he would do to raise profit?

The coconut's golden gaze lit up softly.

"You must return me to the Island, Draik. And do so with haste."

Pho looked uneasy. Feeling responsible was one thing, but Mystery Island was a distant land he had never even been to. He wasn't sure how to get there, and had never ventured beyond the borders of the Haunted Woods before in his life. Musing silently, he glanced up again at the coconut's voice.

"If you do not help me, Draik, the Island shall perish. The jungles will swelter and go brown. The ocean will rise and crash onto the sand, making it not safe for anyone to swim. The sunlight shall fade."

Pho sighed, and nodded. He understood without a worry, he simply didn't want to face what the end result of this conversation was going to be. He closed his eyes for a moment and considered his future before making a choice and replying slowly.

"I'll take you. I'll get you back to the Island, and to your tribe. I promise."

The coconut's eyes dimmed slowly, as if it were resting, ready to trust the future of its homeland and itself to this small, unremarkable Draik. It may have had unyielding faith, but Pho himself was far from sure this was wise. He peered out to the front of the stall. The Quiggle was standing nearby, heckling folk wandering by, daring them to take their chances at the crooked game. As much pity as the Draik felt for the gathering crowd about to be duped out of hard earned neopoints he was none the less appreciative of the distraction it offered.

Nervous, Pho wrapped his cloak around him, and slipped the coconut into a small satchel he often carried. Perhaps carrying a magical guardian with his evening sandwich and tattered old copy of Brain Tree quotes was somewhat disrespectful, but his choices were limited. Glancing quickly to make sure his boss was occupied, he slowly slipped out of the booth and into the open night air of the fairground.

Out of the stall, the Draik glanced around. He would have to take the north exit from the carnival. It was farther, but it meant not passing by his boss and for that reason, he had no choice. Still, butterflies danced in his stomach. He had never gone that far into the deserted theme park before and stories ran rampant about wicked Chia Clowns who patrolled the area.

Slowly Pho crept through the park, carrying the satchel beneath his cloak. He kept to the shadows, and jumped at every small sound he heard. As he made his way along the fence line, now and then he could have sworn he heard a maniacal giggle or the whirring of mechanical footsteps, but pure bravado drove him onwards. He tiptoed past the line of chattering pets awaiting their turn at Test Your Strength, almost jumping out of his scales when he heard the scratchcard seller, Sssidney, hiss in the distance. He had just made his way to the final path that led to the distant exit when he heard running footsteps behind him. Before he even had the chance to whirl around, a paw clamped down and grasped his shoulder, firmly holding him so there was no escape.

To be continued...