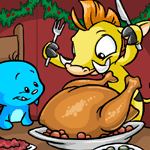 Holiday Feasts Made Easy: Budget and Taste Approved

by ridiculer

--------

It's that time of year again! Snowball fights, snowman building, snow shoveling, gift giving, and best of all, the holiday feast is here to celebrate the holidays with you! There's nothing better than sitting down at the table as a family with your neopets on the holidays for a nice, warm meal. Oh, and of course, dessert! The hard part is figuring out what to prepare for your holiday meal and how much you need to spend! If you're confused with any budget, the Holiday Feasting Guide is here to help make your feast a success! We've organized your meals into four budgets, cheap, medium, expensive (25,000+ NP per meal), and super expensive. Each meal includes a main course, side dishes, and dessert with two options each for you to choose from! Read below on what budget fits you and your Neopet for perfect feasting ideas!

Little Tips!

Before you scroll down to find out what holiday feast you'd like to prepare and give, remember to have an extra dish for your Neopet's favorite food. The holidays are all about giving, and giving your pet their favorite food will be an extra special gift they're surely to remember and enjoy. Plus, no matter how expensive your meal is, it'll surely be their best remembered and favorite if you take a little extra time on their favorite food!

Also, if you have a Neohome with a dining room, you might want to consider customizing it with holiday decorations to prepare and give you and your Neopets that holiday feel.






Cheap Budget Meal
The cheap budget is recommended for those who maybe spent a little too much on gifts, have four (or more neopets) to feed, and need to keep a few extra points in their pocket! It's especially great for newer users on Neopets who are just getting familiar with foods on Neopets.
Main Course
Option 1: Grackle-Stuffed Turkey
A Grackle-Stuffed Turkey is a great way to feed your Neopets an entire turkey feast. It's delicious, filling, and looks great! This works best for those who want a classic holiday meal.
Option 2: Orange Chicken
This is fabulously delicious, and is a great hearty meal.
Sides
Option 1: Jalapeno Popper
Although this little more on the spicy side, it's great on the side and has a taste of excellence!
Option 2: Mashed Potato With Gravy
Mashed Potato With Gravy is great for a classic holiday feast; it has a classic taste and look!
Desserts
Option 1: Chocopie Slice
The Chocopie Slice is a classic chocolate dessert, it's hard to find a Neopet that doesn't like it, and it fits well in almost any holiday meal.
Option 2: Flaming Christmas Pudding
The classic option of Christmas pudding has been given a little bit of pizzazz! This is a fabulous option for a holiday dessert!






Medium Budget Meal
The medium budget is recommended for those who want a delicious meal that's not too cheap, but that won't break your wallet! It's wonderful for those who have two or more neopets and are looking to spend a little, but not too much on their meal!
Main Course
Option 1: Pea and Carrot-Stuffed Turkey
This is a great addition to the classic meal. It has a little more zest than a regular turkey meal, and is a great way to make your Neopets get their serving of vegetables!
Option 2: Turkey Pie
The Turkey Pie is great for pie lovers everywhere, and is wonderful for the heart of your holiday meal.
Sides
Option 1: Scorchipepper Jacket Potato
This side dish is possibly the best choice if your Neopets love spicy foods. It has the classic potato for a holiday meal with a little extra flavor.
Option 2: Marshmallow Yam Soup
The Marshmallow Yam Soup has the ingredients of a traditional meal put into a fabulously tasting soup everyone is sure to enjoy!
Desserts
Option 1: Caramel Apple Mince Pie
You might think this is going to be your average pie, but the caramel and the apple together make one of the best desserts in the medium budget! It's great if you're trying to get your Neopet to eat a little more fruit.
Option 2: Christmas Pudding
The perfect and most classic dessert of them all- Christmas pudding! One of the best options out there for a traditional yet delicious holiday treat.






Expensive Budget Meal
The expensive budget meal is a notch up from the medium budget. It's recommended for those with one or two Neopets because the pricing is a bit expensive, but if you can spend it, no one is stopping you!
Main Course
Option 1: Turkey Dinner
This is the most classic and expected main course of the holiday meal. Don't get carried away though, it's not boring! It's a perfect addition to any meal, and surely to succeed.
Option 2: Ham and Cheese Pasty
Ham and cheese are almost always found together, and using this pasty as your main course is an easy to manage plan. It's always made fresh from the bakery and will go hand in hand with almost any meal.
Sides
Option 1: Mashed Volcano
A beautiful classic in the shape of a volcano! This is sure to blow your mind!
Option 2: Ham and Cheese Mashed Potato
A delicious mashed potato classic, topped with even MORE classics, ham and cheese! This is sure to win over anyone who's dining!
Dessert
Option 1: Chocolate Creme Pie
Of course this is another classic and simple dessert, right from the heart of the bakery. It's quite fabulous, and fits in any meal.
Option 2: Hazelnut Mince Pie
If you'd like to be a bit more of a risk taker, Hazelnut Mince Pie is the option for you! Generally, it's loved for its scrumptious taste, but it's a bit different for a pie. Giving it a try wouldn't hurt though!






Super Expensive Budget Meal
The super expensive budget meal is for those Neopians who aren't worried about the neopoints. It's recommended that you only have one Neopet to spoil if you're going to spend so much, but of course the more the merrier! Please, don't go bankrupt!
Main Course
Option 1: Turkey Drumstick Dinner
This is probably one of the most expensive turkey dinners out there! It's perfect for any Neopet, and will probably never be forgotten (especially the price)!
Option 2: Sweet Ham and Fruit
This option is a bit more on the creative and risky side. It's quite delicious, but make sure your Neopet isn't a picky eater! It's great for those who are a bit tired of turkey and love trying something new.
Sides
Option 1: Peachpa Stuffed Potato
Faeries, of course, are the best known cooks in Neopia, and this is a showing of their talents. The classic potato takes in a peachpa, and has a taste that will drive the taste buds wild! This fabulously extravagant side will kick up any meal!
Option 2: Mashed Potato Fort
If potato is your Neopet's favorite side dish, this is the greatest side dish you could offer them! The almost impossible to make Mashed Potato Fort is truly a piece of art in taste and beauty. It's intricately designed and will set well for any holiday meal.
Dessert
Option 1: Our Famous Krawk Pie
This is one of the most expensive pies out there, straight from the gourmet restaurant, the Golden Dubloon.
Option 2: Mega Neggnog Smoothie
This is truly the ultimate holiday dessert. Not only does it rule by size and price, it also rules by taste and holiday theme. Find your holiday feast perfection by completing it with a Mega Neggnog Smoothie!
Hopefully, this article has helped you celebrate your holiday feast, and complete all of the voids you needed. Remember that these are only guidelines, and if you feel you need to mix and match some of the meals, that can be even better because you get to experiment with the greatest pieces of the holiday feast! Enjoy your meal, and I hope it's one that's well remembered by your Neopets! Merry Christmas, happy holidays, and I hope you have a wonderful, wonderful New Year!