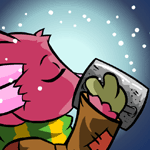 10 Easy Ways to Gear Up For the Month of Celebrating

by hyper_dude72

--------



With Thanksgiving behind us, it's time to look ahead into the exciting Month of Celebrating, and the many annual days which come with it! Along with the likes of New Year's and the Day of Giving, Borovan Day is a great time to get together with your Neofriends and gossip about what you bought your Neopets! Of course, with the Wocky, Bruce, and Ogrin all having their own day in the Month of Celebrating, there's much to look forward to, and much to do in preparation! Here's ten of the best ways to gear up for the Month of Celebrating!

10. Get a wintry avatar and font! Nothing says "Bring on the cold!" like the 'Let it Snow' Avatar, and why not show off your super cool font-making skills? Of course, there are many other avatars to collect for those who have already bought presents for others and are left a little on the short side. Raindorf, Taelia the Snow Faerie, and Hissi - Ice are just a few of the many wintry avatars. Got a knack for games? Try out Grundo Snowthrow, Ice Cream Machine, or Snowmuncher for a chance at one of those avatars. Then, the most important step is to go show off to all your friends (and enemies!).

9. Decorate your Neohome! An endless supply of furniture and decorations can be found around the site, and check out items that the Advent Calendar has given away in the past -- they're usually cheaper, but still give your home that festive feeling. Previously, Christmassy Stained Glass Windows, Decorated Trees, and Deluxe Holly Wreaths have all been given away by the Advent Calendar, and there's likely to be more this year! Looking for something a little more unique? Jinjah Beds, Taelia Lamps, and Snowflake Paintings are all options available to you, but the lists are endless!

8. Buy some hot drinks! With winter making its way into Neopia, you're going to want that borovan and hot cocoa soon! Not to mention that the prices will go up on Borovan Day. Just a few of the many flavors of Borovan available include Cranberry, Vanilla, Mint and Apple. Of course, there's plenty of other delicious beverages to be had, such as Xweetok Hot Chocolate, Steaming Green Tea, or Coffee and Marshmallows. Along with that, why not have a bite to eat, with desserts like Gingerbread Grundos, Iced Christmas Cakes, or White Chocolate Oranges?

7. Give a Petpet to your Neopet. Your pet will never be lonely with its own little friend, and there are many Wintry Petpets on the market! Abominable Snowballs are common choices, but why not go with something a little more exciting? Snowbunnies and Polarchucks are more expensive options, though many Petpets, like Feepits, Snicklebeasts and Snow Kookiths, are more affordable. Happy with the Petpets you've already given your pets? Try painting them for an updated look! Christmas, Snow, and White colours are all available in Petpet Paintbrushes. With a festive little friend, your Neopet will think you're the best owner ever!

6. Dress up your Neopet! With White, Christmas, and Snow Paint Brushes, along with many NC Mall Items, your Neopets can show off their holiday spirit (just make sure that their scarves and toques don't clash!). Brown Winter Hats, Woolen Scarves, Winter Blechy Hats, and many species-specific clothing items are all available, though be sure not to be seen wearing autumn (or even worse: summer) clothes - Those are so last season! Finish off the look with a Snowager Background, or a Terror Mountain Winter Background to make your Neopet look as if they were photographed there!

5. Sing some carols! It's never too early to start belting out festive music at the top of your lungs, so why not start right now? Don't know the lyrics? Try reading Bruce Carols, for those traditional songs, or mix things up a bit with Cybunny Carols. The former is a complete list of every carol ever written by a Bruce, and everyone knows you can't go wrong with wintry music written by a penguin! If you can manage to get your hands (or paws) on a Holiday Concert Ticket for the 25th day of Celebrating, consider yourself lucky! Hope you read the books first, though. Wouldn't it be embarrassing to be the only one who wasn't singing along?

4. Fight in the Ice Arena! Snow Cannons, Snowballs, Ice Crystals, and Motes are just the tip of the iceberg (pun intended!) when it comes to wintry Battledome Equipment. Feeling brave? Visit the Snowager and face off against him in the Battledome! With these cool items, you're bound to do well! Fighting not for you? Start a snowball fight among your Neofriends, and just send those Snowballs around! Just be sure to look out for those Yellow Snowballs!

3. Plant a Wintry Neogarden! For those of you with a green thumb, be sure to set the colour of your Neogarden to blue, if even just for the Month of Celebrating, and plant some winter-themed flowers. Of course, there's a lot more you can do than just flowers - Snow Covered Trees, permanent Snow Angels, and even a Pastel Snowflake Tree are all available to you. This way, when your Neofriends are coming over for some borovan, they'll get into the spirit, too, as they walk to your front door.

2. Grab your parka and winter boots, and go exploring! Terror Mountain may sound scary and treacherous, but only a few places should really concern you. Happy Valley is the bustling town at the base of the mountain, where you'll come across many friendly faces who want to offer you ice cream, play a game of Snow Wars, or go figure skating with you! Looking for a thrill? The Ice Caves hold both the Ice Arena and the Snowager's home, so why not take a chance? Speaking of chances, the Scratchcard Kiosk is located near the Neggery, for those interested in a little festive gambling. Maybe you'll win big and be able to buy that Paint Brush you've been saving for! The summit of the mountain is home to many notable Neopians, such as Taelia the Snow Faerie, Mika and Carassa, who own the Garage Sale, and Donny, the Toy Repair Bori. Perhaps you ought to take them a present, too, for being so helpful!

And finally, the number one way to gear up for the Month of Celebrating...

1. Start preparing your presents for your Neofriends -- The Day of Giving does, after all, permit kind spirits and gift-giving! Take the time to get something extra special for your close friends. Buy presents that are within your price range, but still make your friend say, "Wow!" Great gift ideas for a budget of 100,000 NP or less include Snow Petpet Paint Brushes, and Seasonal Gift Boxes, though the possibilities are endless! Choose presents that reflect who you are, but keep in mind who the gift is going to! Personal gifts which fit the interests of your friends are always the best kind. Need help deciding what to get? Maybe check if they have a wish list anywhere. Remember, the more presents you send to friends, the more likely you are to receive some back! Of course, don't forget how many friends you're buying for. The most important thing, though, is the thought you put into your gifts. Plan ahead, and your Day of Giving, and entire Month of Celebrating, will be great!
Search the Neopian Times


---
Great stories!
---------
---------
---------
---------
---