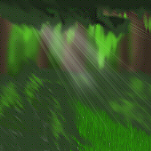 Shad and Saura: The Story of Elversti - Part Five

by ssjelitegirl

--------

The bushes by the path turned out to be extremely, well, bushy. Not only the trees seemed old but the bushes were also thick, sometimes thorny and not easy to wade through. The two decided to go on farther from the path, by the old tree trunks, as bushes didn't grow there and it was easier to jump from root to root.

"We're past the place where we saw them," Shad stated. "And they haven't showed up."

"I can sense them a little," Saura said with a frown, "and perhaps they're even aware of us. But they're not coming, so apparently your theory was right."

The Lupe grinned in satisfaction, tensing his muscles for another seven-foot leap. "We don't know where this path is taking us, though, so we might wanna be careful."

The path went on for a while, seemingly endless as the nature didn't change either. It was dark, yes, but not too pitch-black.

"You'd think that a forest with Faeries in it would be a bit lighter," Shad grumbled.

"Maybe they're Dark Faeries," Saura guessed. His brother stopped in the middle of a leap, falling face-first into a small Blackberry bush. He got out so fast that the bush never understood what hit it.

"Dark Faeries? Dude, I never thought of that. Dark Faeries are a pain even outside this place but here, where every single Faerie is feared, including even 'em prissy little Air ones..."

Saura frowned. "Well, we can't go back now. Besides, one is coming towards us. I can hear her footsteps. Try not to look disrespectful or something..."

"Who, me?" the Lupe hissed as a Faerie stepped forth onto the path. She had rather short brown hair and her clothes were a combination of yellows, reds and browns so the two brothers could only think of her as a Fire Faerie of some kind, yet she didn't look much like the other Fire Faeries they had seen before. This one looked... fiercer. And prouder, somehow managing to resemble Queen Fyora.

"Are you coming to see us?" she asked, stopping behind the bush that separated her from the two.

"Yeah," Saura nodded, adding quickly: "If that's okay with you, of course. We just want to talk... and warn you all."

The Faerie's chin raised a little as her face expressed disbelief, curiosity, suspicion and eventually seemed to come to a conclusion. "That's interesting. Follow me then... just be warned, we have no reason to trust you Neopets."

"Makes no difference, we couldn't be able to do anything to you," Saura grumbled, jumping to the path. They didn't go on for long when other Faeries started appearing between the trees as well. Most of them seemed curious. There were all types, side by side, all looking more determined, prouder and grimmer than the Faeries the brothers had known so far. Yet they all had something in common - it was hard to tell what it was but the Dark Faeries were not as evil as you'd expect them to be, the Air Faeries didn't seem as absent-minded and the Fire Faeries were everything but playful. It was as if they had come closer to the very definition of Faerie, each from their own corner. They were all alike.

"Look!" Shad hissed, trying to keep his head down and look around at the same time. "There are even Water Faeries! How can they live in a forest? They don't even have feet!"

Saura peered at the general direction of the Faeries, trying to look like he was glancing at the trees. "Yeah, but... they have wings."

A Water Faerie turned her head to look at them, sitting on a tree branch and leaning against the trunk. Her straggly hair was quietly waving in the wind, moving through the blue glittery haze behind her back. These weren't exactly wings, but apparently they were magic strong enough to lift her.

The Fire Faerie who was guiding them stopped in the middle of the path and looked around. More and more Faeries kept appearing. They were now everywhere, on tree branches and by the trunks, behind the bushes and also on the path.

"Well, talk," she said.

"The Fortress is planning a war against you," Saura replied. "They should be ready soon. They're just completing their tactics."

"They're planning to use the power of the Seven," Shad added.

Several glances were exchanged. "And you're warning us because...?" a Dark Faerie asked. She had straight black hair and her wings had a rather odd shape, something like a mixture between the usual Dark Faerie wing shape and the shape of other Faeries' wings. But she was still obviously a Dark Faerie, already by the sharp gaze in her eyes.

It took a while before the two brothers finished the whole story, as weird as it sounded to them at times, but the Faeries had listened carefully and nodded in agreement every once in a while. When they finished, the Water Faerie from before slid down from the branch - or floated, in fact.

"Even we don't know how the power of Seven works; it's literally ancient," she said. "But it seems to me that we need to figure it out if we want to survive."

Shad and Saura gave a relieved sigh. At least the Faeries had listened to them. Even if the Fortress would turn against them, they now had allies, or something very close to the term.

"Why are you enemies anyway?" the shadow Lupe asked. "You keep driving them off the Elversti, and they keep thinking that you're some terrible monsters who eat their children, and I bet that if you could just sit down and talk things out, both sides would be happy."

"Hrmh," snorted another Fire Faerie with long bright red hair and clothes. "We've never done them anything, except kept them off Elversti. Can't say the same about them."

"Indeed!" Now several voices arose.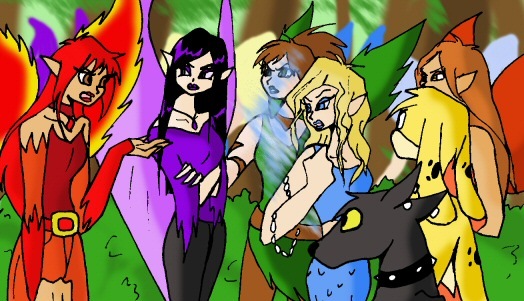 "Okay, so they come to hunt and pick the berries, can't really blame them for that."
"Yes, we eat too, don't we? And the forest is big enough for both of us."
"Tell that to them, m'dear! You've seen what they do down south!"
"Have I! And I'm telling you, that they won't succeed as long as I breathe."
"As we all, you know that."
"And all that stomping around in the woods like a herd of Elephantes... seriously!"
"Indeed, no respect whatsoever!"
Shad's ears twitched. "Would you all shut up and explain the whole point one at a time?!" The Faeries stopped out of pure surprise and turned to glance at him. "What are they doing down south?"
An Air Faerie glared at him with her eyes gleaming - pretty unusual for that type. "Measuring and dividing the land, that's what. Annihilating us is one thing and that can be sorted out, but they don't plan to move away into the plains, whatever they told you. What would they do in the plains? There's no food there. The forest feeds them as it feeds us, so they want to have it and don't think they'll agree to share it with us."
"Ouch," Shad muttered.
"Why not?" Saura asked.
"They're terrified of us," the black-haired Dark Faerie said. "Don't think we can negotiate that easily. Our magic is strange and unknown for them, and what they don't know is what they're afraid of. They won't let us near and they won't listen. We can't get into the Fortress to talk. We'd have to have a word with their council in order to achieve anything at all but unless we take some hostages and demand for them to come out, this would be hard to pull."
"Not to mention ironic," the straggly-haired Water Faerie remarked. "Hello, we have a hostage and we won't let him go unless your council comes out to talk to us about our peaceful plans for the future."
The two brothers glanced at each other again. These Faeries were really a lot different from the ones they had known so far. They were fierce, lively, even dangerous... true, all Faeries were dangerous but these ones were obviously dangerous.
"And you can't step into the Fortress?" the Zafara asked.
The Fire Faerie on the path grunted. "We could tear this place down stone by stone if there wasn't for the power of the Seven. It's like an impenetrable wall. If there was a way to break that protection, we could go in with ease and talk to them... but we don't know of such a way."
"Maybe if we go back, talk to the council and convince them to come out..." Saura muttered. The Faeries shot such a sarcastic glare at him that even Shad blinked.
"Tired of life?" the Dark Faerie asked.
The Zafara blinked too. "Good point... okay, bad idea."
The Water Faerie floated closer, carried by the magical haze on her back. "Truth be told, the only way for us to survive is to break the spell. Once they discover how to use the power of Seven outside the Fortress, they'll come and track us down. And there'll be nothing we can do about it. We'll either be destroyed or driven out of the land."
"Which wouldn't be the worst thing, as we could live elsewhere," the Air Faerie added. "But they're going to take a lot of the forest down, this much I can tell. And... Elversti."
The others nodded. Elversti was to be protected. That path wasn't for strangers. And nobody wants to leave their home to violent intruders anyway.
"There only is one thing to do," the black-haired Faerie said. Obviously she was if not the leader then a very high-ranked spokesperson. "To fight and to defeat, and then to talk. They won't listen until they're defeated."
"To fight, we must get past the Seven," the Fire Faerie in red stated.
"The only way to get past the Seven or even find out what it's about is to get inside," the Water Faerie said. "We can't get inside, even if they opened the gates."
"We can't," the Dark Faerie agreed. Shad's ears drooped. The whole sisterhood - it was hard to use any other name - turned to look at the two brothers.
To be continued...