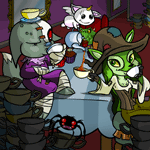 Halloween: Neopia Speaks!

by 0110pvt

--------

Glowing pumpkins... monsters... witches... trick or treat! What comes to your mind? Halloween, of course! With our favorite time of the year just round the corner, the Neopian Times Kiko reporter, Zukie, goes all around Neopia to check out what other Neopets are doing in preparation for this much anticipated time of the year.

Haunted Woods

This year in the Haunted Woods, where it is seemingly Halloween all year round, Neopets are putting in the extra effort in preparing for the best Halloween party that ever hit Neopia. Every day, you could see Neopets rushing from one place to another, decorating streets with the most exquisite Halloween decorations ever seen.

"We are expecting thousands of visitors this year," spoke Lené, a Halloween Lenny who had dressed herself in a witch's costume. "We hope to give Neopia the best Halloween she ever had!"

Not only are Neopets going the extra mile, even the Brain Tree itself is joining in the festive mood. Decorated with spooky ornaments, the odd-looking tree told The Neopian Times, "One can expect more surprises when doing my quest!" but refused to reveal any more information. Well, curious Neopians would just have to experience the surprises for themselves this Halloween!

And at the Deserted Fairground, Neopians are queuing up for hours just to get that shiny coat of Halloween paint for this coming Halloween.

"It's all worth the while," said an Ixi who had been queuing for close to 5 hours straight!

With all these preparations going on in the Haunted Woods, I'm sure it has to be the best place to spend your Halloween!

Lost Desert

Moving on to the Lost Desert, Sakhmet City has been decorated all over with Halloween banners and posters. Buildings throughout the city have spooky paintings all over them to welcome the festive mood into the Lost Desert. As I moved round the city, I noticed stalls are beginning to sell Halloween-themed goodie bags that "may contain Halloween paintbrushes!" according to Mr. Sands, owner of the Lost Desert Goodies stall.

When asked if they had any new ideas this year, a group of Neopians in a café claimed that the entire river was to be lit with floating pumpkins on Halloween night. Well, I guess if you're hoping for something new this Halloween, the Lost Desert would be a good choice for you!

Faerieland

As I entered Faerieland, I was greeted by something extraordinary - floating pumpkins! It was a magnificent sight for any Neopian. Glowing pumpkins and candles illuminated the night sky - the view is simply breathtaking.

And for all booklovers out there, the library faerie has decided to add another 500 Halloween books into her extensive library! Some classics that have been promised to come in just in time for Halloween are "Korbat Halloween", "Mystery of Halloween", "Ghost Lupe Spooky Stories" and many more!

Moreover, Neopians can expect spooky prizes giving out upon completing Jhudora's quests and of course not forgetting our favourite Wheel of Excitement. The organisers of the Halloween party in Faerieland have promised "a night of fun and games you just cannot miss!"

Krawk Island

For all those pirate wannabes, you just definitely have got to spend your Halloween at Krawk Island this year. With ships decorated with eerie pictures and statues, the pirates of the island have promised to give any and every Neopian a ride around the island on their ship! This once in a lifetime experience includes a basic pirate course in the early morning, a grad seafood buffet in the late afternoon and a Halloween party in the late night.

And if you are deciding to go over to the island to spend your Halloween, don't miss the dazzling performance at the fungus cave, where hundreds of Krawk petpets would carry out their annual Halloween dance.

Mystery Island

As you arrive at this tropical island, you hear a mysterious chanting coming from afar. As you move closer to the source of this music, you would see a huge bonfire burning in the centre of the famous Mystery Island beach. Spooky figures dressed in Halloween costumes prance around the flame, singing songs of joy and laughter.

This Halloween, Mystery Island promises Neopians a time of their life. Tourist attractions like Techo Mountain, the Rock Pool, the beach and even Geraptiku have been decorated with Halloween statues that have been carved by the finest artists on the island.

"It's really exciting this time," an Island Chomby told the Neopian Times when interviewed. "My friends and I just can't wait for Halloween to arrive. We have spent hours in our island's very own costume shop trying on all sorts of scary costumes."

His friend, an Island Uni dressed in a dark robe added, "We are all getting ready to tour the entire island for the whole day! It's going to be fun!"

With all this fun around the island, even the Island Mystic will be taking the day off to join in the trick or treating. What a fun Halloween it would be at Mystery Island!

Happy Valley, Ice Caves and Terror Mountain

Here in Happy Valley, where it's freezing cold, inhabitants are already moving around in their Halloween costumes. As you move from house to house, you would notice that every single household has been wonderfully decorated with Halloween ornaments to welcome Halloween. And according to Mr. Chipper, he will be giving away free monster-shaped ice-cream on Halloween itself! Yum!

Entering the Ice Caves, one would notice something very different about the Snowager. In fact, he has prepared a large bag of goodies for every Neopian who went trick or treating by his place. There is no need to fear him blasting off at you this Halloween!

At the Neopian Neggery, piles and piles of Halloween neggs like the Cackling Negg, Pumpkin Negg, Staring Negg, Witchy Negg, Ghost Negg and Wicked Negg have arrived and up for grabs this Halloween!

Climbing to the top of the mountain, we can still feel the festive mood despite the chill. Mika and Carassa will be giving away loads of goodie bags while the Shop of Mystery is, well, giving away mystery Halloween items this time.

Neopia Central

Back home at Neopia Central, the town is bursting with Halloween activities 24/7!

At our favourite Neopian Fresh Foods, one can expect loads of sweets and chocolates as you patronize the shop on Halloween night.

"It's the perfect idea!" commented a Cybunny on the giveaways at the Neopian Fresh Foods on Halloween night.

Moreover, Kauvara is also giving away "weird items" this Halloween that promises to "give you the biggest scare ever".

"The kids are gonna love it!" Kauvara said with excitement. "Even I had fun preparing all those... err... gifts!"

With so much going on both at home and outside of Neopia Central, Neopians have to make the toughest decision of their life this Halloween - to stay, or not to stay.

Have a fun Halloween!