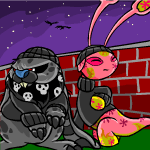 5 Ways To Protect Your Neohome

by smeesh28

--------

A Neohome is a place where you and your pets should feel safe, and well, at home! Whether your home is made from jelly or gold, it should be well protected; I mean, after all, you wouldn't want the Pant Devil breaking and entering, stealing everything he possibly can!! So I have come up with five ways which you can put into action that will help make your Neohome the toughest one on the block, the one that thieves will fear.

Upgrade your security system:

Now this seems like the obvious choice of protection, because after all a Neohome without a security system is an easy target for thieves! Now remember: cheap security systems aren't enough. I've known of people with the most expensive system Neopoints can buy, yet the Pant Devil can still fly in and out whenever he pleases! By itself, a security system isn't enough. Don't bother with one unless you're still willing to set traps or paint your walls with stone.

Pros: Makes your Neohome a little harder for thieves to break into.

Cons: Even people with expensive security systems can get broken into. (A security system can't do the job by itself.)

Have a tough Neopet:

A Neohome is less likely to be broken into if there is a big strong Grarrl wandering about. Now I'm not suggesting that you go ahead and create a Grarrl if you're unfortunate not to already have one. But what I am suggesting is, go to the pound and adopt a pet! There are plenty of tough pets in there that are looking for a new home. But if you're lucky to have a tough pet, then coax them into being your own, personal security guard. If they refuse to do such duties, then simply tell them, "I know you're big and tough, how about you use that muscle and take care of the house while I'm gone?" Once you butter them up like that, their ego will explode and they'll march (or swim or fly) around, looking big and tough, acting like your very own, personal security guard... Just what you wanted...

Pros: Doesn't cost any Neopoints which leaves more for the other important things. (Maraquan Paint Brush, here I come!)

Cons: Thieves can easily distract your Neopet with a juicy Ransaurus Steak!

Set traps:

A Neohome should have traps set left, right and centre. This is a wonderful way to catch criminals and won't cost many Neopoints either. Plus you'll be saving the Chia Police a lot of time and effort!

My favourite trap - (works every time!!)

Place a long, invisible wire across the floor, next to every entry of your Neohome. Connect the wire to a tape player. Once the thief walks in and steps on the wire, the tape player goes off saying, "This is the Chia police! Come out with your hands up!" Of course, you'll know that the Chia Police aren't actually in your Neohome, but the thief won't...

Pros: Saves the real Chia Police a lot of time and effort.

Cons: It's highly possible that YOU might accidentally step on the wire!

Walls of Stone:

Q. What's hard, tough and nearly impossible to break through?!

A. A wall of stone!

Of course, not many people like the thought of stone for their Neohome. It's cold, hard and makes the room look like a dungeon. A simple way is to make your walls out of real stone. But wait, isn't there a stone paintbrush? Couldn't I simply paint the outside of my house stone while the inside remains the same? The answer is yes. That's the joy about paintbrushes, the outside changes yet the inside stays the same. If you paint the outside of your house stone, a thief is more likely to pass your house and say, "Oh, gee, that house of stone looks too hard to break into. But oh look, a house made of straw, what an easy target." You see my point? A thief would rather invade a house of straw, jelly, or cardboard than a house of stone.

Pros: Less likely to be broken into.

If you paint the outside, the inside stays the same and you can enjoy the same comfort as before.

Cons: Can be expensive if you have a large house... remember that you'll probably need more than one stone paint brush.

Insurance:

Having insurance is essential for all Neohomes. If you don't have insurance and the Pant Devil manages to get past your security systems, traps, walls of stone, and tough Neopet, then you have a major dilemma. Thieves always steal the really valuable items like your collection of Usuki Dolls and if you don't have insurance, then you'll never see those items again! So protect yourself and buy insurance!

Okay, now you should have a good idea of how to protect your Neohome, but who do you have to watch out for? Well, I've compiled a list of all the evil villains and thieves you should watch out for, so if one does try to break and enter, you'll be ready to fight!

The Pant Devil:

The Pant Devil haunts and taunts everyone he sees. If they have a valuable item, he'll take it, no doubt about it. Watch out for this villain; he'll take anything he can!

The Greedy Kadoatie:

The Greedy Kadoatie can give you bad scratches if you don't watch it! He'll rob you for all you're worth even though he's got plenty of Neopoints himself. I suppose that's why he's called "The Greedy Kadoatie."

Monoceraptor:

The Monoceraptor in my opinion is the ugliest beast I've ever seen. It looks like he needs a visit from the Tooth Faerie. He was the evil leader behind the Tyrannian Invasion. Nothing can scare him... he's the worst of the worst. I'm sorry to say, but the only thing that will protect you from this beast is insurance. Because at least if he breaks in, everything he steals you can reclaim back.

Dr. Frank Sloth:

Sloth, evilest villain there is. Watch out for this guy; his cunning plans to take over Neopian could involve you. If you see him wandering around Neopia, call the Chia Police right away. This guy's nothing but trouble.

So you're now aware of all those villains, and know of good ways to protect your Neohome. Hopefully, your Neohome will never be broken into, and you'll never get those pesky visits from the Pant Devil again!