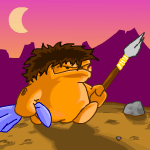 The Completely Brief Comprehensive History of Neopia

by simsman24000

--------



THE LAVA-FILLED MAGMA CORE OF NEOPIA – PANIC! TIME IS RUNNING OUT! AS IS MY AIR SUPPLY! I MUST KEEP THIS SHORT, FOR ARTICLES DON'T NORMALLY HAVE EXTREME HEIGHT. AS THE HEAT AT THE CENTER OF NEOPIA GROWS HOTTER, I MUST NOW RELAY MY RESEARCH BEFORE I MEET MY END. AS I HAVE YET TO HAVE A BEGINNING, LET'S SKIP THE INTRODUCTION AND OMG CAPS SORRY.

Please, everyone – read this now! Before you too meet an untimely fate at the center of the planet! Learn about the TRUE past of Neopia, before it's too late! My research has brought me down to the core of this wholesome sphere, and it is here that I must tell you this information before I become an unfortunate soul! Alas, here are pages which I have found over the years, stored in my personal diary. They completely refute everything we as a Neopian people know about the world in which we live! These pages will reveal it all! They will tell you (albeit randomly) all about the history of our beloved Neop— *sizzle*

***

neopia. (nee-oh-pee-ah) n.

1. A planet in the current galaxy where Neggs serve as a worldwide delicacy.

2. Land inhabited by Neopians (see: natives, indigenous, cannibalism)

3. A large sphere-like object upon which lies a rich and fruitful history.

***

The Birth of Neopia

Neopia was founded many years ago by four--

The following takes place between the hours of 9:00 AM and--

Many eons ago, the Sun and the Moon were playing a game of chess. As is always the case between celestial beings, the Moon got rather angry when it lost, and called the Sun a "cheating Mortog." Not knowing what a 'Mortog' was, the Sun inquired to the Moon, "Friend, what is this 'Mortog' you speak of?"

The Moon, not knowing what one was either, nor why he even mentioned it in the first place, was just as confused. "I know not what a 'Mortog' is either, Sun."

The two thought for many centuries when suddenly, the Sun had the most bestest idea to create a Mortog. Calling upon the powers of imagination, he created a green friend for him and the Moon to share. However, this friend soon exploded after thirty seconds, for everyone knows that you can only hold your breath in space for exactly thirty seconds.

The Moon then had an idea to create a home for the new Mortog species to live on, one with fresh air, grazing land, and the eventual development of the Neodaq stock market. They called this Neopia, and sent all the Mortogs down to live on the new planet. And then they filled it with lots of other fun things and they all lived happily ever after. The end.

***

4 Celebrating

UGG JOURNAL:

UGG BUGH UGG TRUGH UGHH HURG GRUUH URGH. NURG UGH BURG OOH EE OOH AH AH TING TANG WALLA WALLA BING BANG UGH NURGH UGH GRGUG BURG UGH HUG UGG.

Sincerely,

UGGH GRUHH

***

"No," said the Buzz, "I will travel to the New World, to Neopia Central, and bring back spices from the finest Meowclops for us."

"Very well," said the Brain Tree. "You will travel to the New World, to Neopia Central, and bring back spices from the finest Meowclops for us."

"I just said that."

"Very well," said the Brain Tree.

Continued on page 49...

***

ATTENTIONE ALLE YE NEOPETSE

On thise, the fourteenthe daye of relaxinge, we shalle no more spelle alle of oure wordse withe extra e's, ase followse:

The quick brown Wocky jumped over the lazy Lupe.

You shall enjoy these changes.

I guaranteee guarantee.

-Ixifer L. Trottingworth

Founder of Brightvale Books

***

...continued from page E2

18TH OF HIDING

"I'm very excited," says a friend of the Faerie, who wishes to conceal her name so that Negg-hungry thieves don't attack her family and friends in hopes of making contact with the Negg Faerie. "Our little Negg Faerie is so happy to finally be opening up her own shop."

The Neggery, which will open in two weeks time in the Ice Caves, is sure to be a hit with all Neopians, carrying a constant stock of delicious Neggs ranging from the standard 'Happy' to the not-so-standard 'Evil.'

Costs are high, however, and we asked the Negg Faerie exactly how she plans to pay for the high expenses guaranteed to coexist with the opening of the Neggery.

"Well, I've decided to invest money in games," she says confidently. "I've invested hefty amounts into Mummy Maze, Chute, Kau Herder, Jelly Processing Plant, Switch-A-Roo, Kauvara's Potion Game, Scorchio's Quest, NeoWardrobe, NeoDJ, NeoKnights, Poogle Solitaire, and Meristones."

Next week, pick up a copy of the Neopian Times Issue #11 for your coupon for a free tour of the Neggery! Needless to say, we think the Neggery will be around for quite a long time.

***

ATTENTION

19TH OF HIDING

NOTICE OF CLOSURE

ICE CAVES

NEGGERY

OPENING POSTPONED UNTIL FURTHER NOTICE

DUE TO LACK OF FUNDS

***

THE FOLLOWING IS FOR CUSTODIAN RECORDS ONLY.

24TH OF AWAKENING, TWO CENTURIES AGO

CENTRALVILLE

J: ORDER, ORDER! I NOW CALL TO SESSION THIS HEARING OF THE FOUNDING FATHERS OF CENTRALVILLE.

W: WE NOW OPEN THE FLOOR FOR POSSIBLE SUGGESTIONS FOR TOWN IMPROVEMENTS. YES, MR. BUZZINGTON?

B: COULD WE GET RID OF ALL THE SKEITHS?

W: NO. NEXT SPEAKER? MR. HISSINGTON.

H: I PROPOSE THAT THERE IS A WORLD UP IN THE CLOUDS, AND WE MUST GO AND HARNESS THE AWESOME CLOUD POWER OF THAT WORLD.

W: YES, MR. HISSINGTON, THAT'S CALLED FAERIELAND.

H: SO IT IS.

J: IS THERE ANYONE ELSE WITH A VALID COMMENT, OR SHOULD THIS MEETING COME TO AN EARLY CLOSE?

C: I HAVE AN IDEA.

W: MR. CHIAINGTON, YES?

C: I PROPOSE THAT, WELL... ERR... THE TOWN NEEDS A, UM... ERR... A FOOD SHOP.

W: LOL!

J: PLEASE, MR. WOCKINGTON, THIS IS NOT A CHATROOM. A FOOD SHOP, MR. CHIAINGTON? WHY EVER WOULD WE NEED ONE OF THOSE?

C: WELL, ERR, YOU SEE... UMM... WELL, WE NEED FOOD TO, ERM... THRIVE AND... UH... LIVE.

H: SO IT IS.

W: AND WHERE DO YOU PROPOSE WE BUILD THIS FOOD SHOP?

C: ERR... IN THE, UM... CENTER OF CENTRALVILLE?

F: PREPOSTEROUS!

I: HORRENDOUS!

S: RIDICULOUS!

H: SO IT IS.

J: A CENTER TO CENTRALVILLE? WHY, THAT'S PREPOSTEROUS, HORRENDOUS, RIDICULOUS, AND SO IT— I MEAN, IT'S PREPOSTEROUS, HORRENDOUS, AND RIDICULOUS! HOW CAN THERE BE A CENTER TO A TOWN ALREADY IN THE CENTER? THINK OF THE CONFUSION!

C: TO BE HONEST, SIR, IT'S, UM... WELL, ERR... IF WE RENAME THE TOWN, WE CAN THEN, ERR, HAVE A CENTER AND, ERR... A FOOD SHOP?

J: AND IF WE DON'T RENAME THE TOWN?

C: THEN WE... DON'T SURVIVE?

J: THEN IT IS SETTLED! WE SHALL BUILD A FOOD SHOP – YOU, MR. CHIAINGTON, SHALL BUILD A FOOD SHOP – AND WE WILL RENAME THE TOWN. WHAT SHALL WE CALL IT?

F: CENTERTOWN!

Q: JETSIAM!

B: GERMYNCI!

N: KOINADA!

A: THE MOEHAMAS!

J: ENOUGH WITH THE PUNS! ANY REAL IDEAS?

C: ERR... NEOPIA CENTRAL?

J: WHAT THE HEY, WE'LL GO WITH THAT. COURT DISMISSED.

***

"We're extremely ready. It's very adequate. It's going to be very, very good. Enjoyable, indeed. It will be fun. I am sure. Yes, I am sure. It will be fun."

Somehow, the debut of the Wheel of Mediocrity isn't necessarily enthralling the current residents of Tyrannia, nor this reporter. Back to you, Tom.

***

SCIENTISTS HAVE DISCOVERED A HORRIBLE NEW SPECIES OF NEOPET, DEVOID OF ANY SORT OF ATTRACTIVE FEATURE OR TRAIT. THE DISFIGURED, MUTATED SPECIES IS SO NUMEROUS THAT THEY ARE BEING ADOPTED LEFT AND RIGHT.

AND IT SHALL BE KNOWN AS THE UNI.

***

From the desk of King Keekkoh:

A royal proclamation to the rest of the Neopian world is in order, as I, King Keekkoh, officially proclaim an open door policy on my humble retreat of Kiko Lake!

The Kiko Lake Wildlife Reserve will be open to any and all Neopets from across the world. However, Jetsams, Grarrls, and Skeiths will need to check their teeth at customs before gaining admittance into the reserve.

Your gracious king,

King Keekkoh

***

NEWSFLASH!

Sahkmetian Officials have apprehended Princess Vyssa, the killer of the beloved King Coltzan III. Please know that she has not killed anyone since the usurping. Do not worry.

Also, in related news, congratulations to Senator Palpus for his successful septuple-bypass surgery. He is now down to a slim 1.3 tons! Congratulations to his family on his svelt new figure!

***

In other news, the second round of the Altador Cup has finally come to a close. Mystery Island's glory was ruined by the fantastic pirates of Krawk Island, but will next week's match-up prove to be just as intense? This is the Best Darn Altador Cup Show Period!

***

Issue 143 of the Neopian Times has just been released! Go read all the great new articles, including The Completely Brief Comprehensive History of Neopia. That is all.