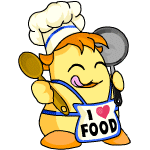 There Is No Such Thing as Too Much Barbecue!

by purplepassiony2k

--------

When I'm feeling good, I want barbecue. That means comfort food. Even the words sound warm and welcoming. I realize it's officially summer for some of us and it might be hard to think about comfort foods when our daytime highs are in the 90's, but the hot, breezy summer months is the perfect time for these treats. In my opinion, it's all about small bits of intensely flavored things. No one wants anything heavy. It's about light, it's about fresh, it's about juicy!

How is this article different from the other ones? Well, I will hopefully bring you more of those treats that will help create new memories and since summer is the time for cook-outs, great foods on a Fire or Robot Barbecue (you do own one of these neoitems don't you?), and fun times with your Neofriends, I was surprised I couldn't find one article on barbeque party comfort foods! Of course, "barbecue" has a LOT of variations -- BBQ, Bar-bq, barbeque etc! (but all these items do have another thing in common, I won't tell you just yet - that would spoil it! Haha).

Neopians love comfort foods! Of course, favorites vary from owner to owner. While homemade Chicken Cordon Bleu with Potatoes and Gravy and Peppermint Mince Pie have been staples for many of us here in Neopia, for some of us comfort food may include a delicious gooey Pizapple Surprise, a Hot Cheesy Baguette or Chocolate Carrot Sundae. Thus, comfort food is food that makes you feel good, right? Mmmm.

So -- who says you can't enjoy lighter comfort foods in the sizzling summer?

1. Asparagus and Butter Hot Dog: And for many, it starts with asparagus — hot, grilled asparagus. Oh, admit it. You love hot dogs too. Hot dogs are said to be the item most often cooked on a grill. Grilled, steamed, boiled, roasted, slathered with relish, ketchup, chili and cheese... they're a rite of summer. Because they are so popular, I thought hot dogs deserved to be mentioned first. Summer just wouldn't be summer without them! Although asparagus is at its most delicious when gobbled down fresh and untouched by any other toppings, this Asparagus and Butter Hot Dog just tastes amazing-- just ask Adam... what's not to love, eh?

2. Raspberry JubJub Mini Burger: It's so easy to overeat in the summer. So--what article on summer comforts would be complete without a hearty yet light fare including a nice, juicy burger? Would you like to try the best burgers in Neopia? Whether you're a red meat fan, a seafood person or addicted to veggies, these mouthwatering burgers are sure to get your stomach growling. Great made-to-order JubJub Mini Burgers with secret ingredients such as lip-smacking Raspberry, Chokato or Tchea ingredients! Don't forget to top with condiments and a burger roll to experience a real burger. Oooh… don't they just look yummy! My mouth is just watering! *drip*

3. Buttered Watermelon: Comfort food knows no bounds. One of my personal favorites during the summer months is watermelon. It's hard to beat a sweet, juicy slice of ice cold watermelon on a hot summer day. Maybe it's the crisp, very juicy and very flavorful bright red pulp and large brown seeds, or perhaps it's the gigantic mound of butter melting all over the top!? At any rate, it's certainly delicious, so why not put your taste buds to work and enjoy it! Its sweet fragrance can create a look of anticipation from any young neopet! A colorful new way to start your day. Anyhow, I guess all I really needed to say was YUM!

4. Cherry Sloth Yogurt: Great item, but if you can't appreciate the Sloth bowl, then what's the point? I mean, really!? And then there's the taste. The taste is an amazing blend of cherry tartness and no artificial flavor or color; just yummy fun! In fact, come to think of it, it's a shockingly distinct flavour, soft and smooth, and definitely memorable! A favorite dish for the end of a busy day for anyone trying to impress Sloth! Yummy, yummy, yummy. Now you've got yummy in your tummy! But of course, there are those who wouldn't trade a bowl of sorbet on a hot summer day for anything, and as a bonus it is lower in fat than ice cream! *smiles*

5. Nectar of the Heroes: As a matter of fact, I think the most perfect drink for a hot summer day is an overflowing cup of something chilled. You can cool down in no time with this super-easy, super-delicious summer drink. On a hot, summery day, ice-cold nectar serves up a delicious treat. That's what makes it the ultimate comfort food when you're craving something cold in your life. This simple and unique drink is perfect for any time. Has a smooth, unique flavor that makes it light and delicious. Nothing will chill your friends better than this totally amazing and totally brisk, refreshing drink! Smoothies and slushies are perfect choices too!

6. Mixed Fruit Kebab: Talk about your comfort food!!! Yum!!! Good eating to soothe the summer heat! They seem so simple, but there's nothing I'd like better in the summer than fruit kebabs! They are simple to make and attractive! (and healthy!) Use mixed fresh fruit and cut into bite size chunks, such as pineapple chunks, bananas, grapes and berries! Throughout the summer different fruits are readily available at the Shop Wizard, and Meri Acres' "Pick your own berries" or hopefully even in your Neogardens. They are nutritious and delicious! ...What other fun things could you do with mixed fruit kebabs this summer?

7. Tomato Stuffed Jacket Potato: If you've never had such a craving, it's probably because you've never tried it. Can anyone deny the temptation and pleasure of a summer tomato plucked right from the vine, still warm from the sun, and how can I even describe fragrance of a freshly picked tomato? Makes you want to just eat them right there in the Neogarden! Oblivious to spurts of seeds and oozing juices, we are at one with nature as we devour the juicy tomato. Has anything ever tasted better? Guess that there are as many ways of making potato salad as there are different tastes, so why not wow your neofriends and offer Tomato Stuffed Jacket Potatoes instead.

8. CPMPB Salad: You've grilled the perfect comfort foods so far. But your summer cookout still isn't complete without the perfect accompaniment. Summer cooking can be lots of fun if you make good choices, so why not make something to make people talk? This salad is good for a refreshing light lunch too. Unexpected combination, but intensely satisfying. A nice combination of chicken pesto with stringy mozzarella and creamy peanut butter is a simply delicious and easy side dish salad recipe. It also makes a lovely light dessert on its own. For now everyone should go out and enjoy this summer treat done in a new way – now, that's fab-u-lous!

9. Baked Faerie Corn: This is got to be one of the summer's most delightful rewards, I know this since I enjoy it year after year! Some eat corn 'round and 'round the cob. Some eat it back and forth. (I eat it back and forth myself, how about you?) Either way, I'll continue enjoying my corn-on-the-cob, each kernel bursting with sweet flavor my way, all summer long! Challenge some friends to a corn-eating contest this summer! They are pretty quick to prepare --or, they can be made in big batches and kept in the fridge for a few days of munching. Fresh, summer corn is always such a treat, and very easy to add to your menu when you're planning a summertime party!

10. Speckled Ice Cream: I scream! You scream! We might as well face it. Nothing says summer like an ice cream cone melting down your wrist and it's no coincidence that ice cream is the ultimate comfort food. A little lick, an instant drip, and a icy slide down your throat provide a simple pleasure, so go ahead and lose yourself with a great big cone full of delicious and not to mention speckled goodness! I recommend going light with the bbq desserts, though. I prefer mostly fruit, shakes and yes, ice cream! What doesn't go with ice cream? It's a perfect ending for our barbecue. If any comfort food evokes taste memories, it is ice cream. And you know it! :)
These comfort food trends show us going back to our roots but with a few wonderful, tasty twists along the way. Hope you enjoyed my article... so umm... what are you still doing here... go and indulge in some summer comfort! Just don't forget plates, napkins, and utensils. *winks*
Ok, now you either skipped to the end to find out what these items all had in common or you really read my article! LOL. Either way, I won't keep you in suspense any longer here: yeah, the items are all gooey goodies. What else did you expect from the gooey goodie goddess?! :)
Good gobbling to all!
-Chelle (author of 'Our Ooey Gooey Neopia!')