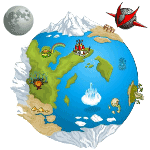 The Altador Cup Dream Team

by rookina

--------

ALTADOR CUP - With the Altador Cup moving into the third round, we've assembled a line-up that we think would make for a pretty unstoppable team. But with so many exceptional players to choose from, who made the list and who just missed out?

The chosen few:

It's always difficult to choose just five when you have so many quality players in front of you. We asked for help from the Altador Cup match commentators, fans and former players in selecting our chosen five, then we went to them and gave them the good news!

Right Forward – Tandrak Shaye (Darigan Citadel)

There are few Yooyuball players with more all-around talent than Darigan's great Gelert forward. Shaye has proved time and time again that as well as his scoring ability, he's capable of making accurate and intelligent passes and running back to provide a solid addition to the team's defence when necessary.

He's already won fans with his performances (and his good looks!) so far in the Cup, and admiration for his skills from Terror Mountain fans during their first round matches. As Darigan progresses to the third round, both his teammates and the fans are sure to appreciate his talents more and more.

"I've always tried to be good in every area, so I'm pleased you've recognised that, thanks. Don't stop watching yet, though - Darigan's going all the way!"

Left Forward – Teylore Nix (Mystery Island)

Often underrated because he plays on the same team as the mammoth Volgoth, but in reality he has a lot more going for him than the Mynci. Whereas Volgoth relies on size and strength, the charismatic Nimmo's talents extend not only into passing and scoring, but also into providing a solid defence when he is needed at the back.

The forward often has days of nothing short of brilliance, and is quick to recognise scoring opportunities. Teylore deserves to be recognised as a star, but perhaps in order for that to happen he needs to transfer to another team...

"Wow, you picked me instead of Volgoth? Wow, thanks! It's nice to be appreciated for a change!"

Left Defender – 'Poke' Cellers (Kiko Lake)

Proving that size doesn't matter when it comes to defence, this surprisingly quick Kiko has an uncanny ability to take the ball from the opposing side and turn their attack into counter-attack by quickly passing forward to create scoring opportunities.

We may not be seeing any more from Kiko Lake in this year's Altador Cup after their injury problems, but with 'Poke' providing a solid defensive base, rest assured they'll be back stronger than ever soon!

"Hey, girls can play Yooyuball too, you know! So if I can inspire more girls to take it up, that's fantastic!"

Right Defender – Rinok Fitel (Terror Mountain)

His team may have been knocked out, but that was more to do with Darigan's great defence than his own being inadequate. With a speed surprising for someone so tall and wide, and harder to knock down than a brick Neohome, the gifted Bori has been a mainstay of the Terror Mountain team for years, providing solid support to goalkeeper Minae Mitora, adding to the scoring when needed and captaining the team on occasion.

More than capable of holding the line when the team plays a 3-1-1 formation, if the team had gotten through to the next round there was no reason why he shouldn't have been one of the top three defenders in the tournament.

"This is really encouraging, thank you. Too bad we're going home early, but don't worry - we'll be back stronger than ever... Watch out, Tandrak - you won't find it so easy next year!"

Goalkeeper – Sir Pollonaire Freidl (Meridell)

Perhaps because of his social position, perhaps in spite of it, Freidl has worked tirelessly for years to become one of the game's greatest and most respected goalkeepers. The Shoyru controls his defenders from the net and displays an agility that surprises many forwards.

In the past he has on occasion received criticism for various areas of his game, but this avid reader of the sports pages will always take the criticism on board and work hard to ensure that he's always that bit more improved for each subsequent game.

"Thank you very much. I just go out there and try to play my best every game - I'm honoured that you've recognised the work I put in."

Worthy mentions:

Timu – Right Defender (Altador)

Could have made the Dream Team if she had improved her attacking game.

Derbi Azar – Right Forward (Lost Desert)

A creative scorer, but a bit rusty after missing most of last season.

Krell Vitor – Left Defender (Haunted Woods)

Perhaps the most dominant defender in the game today, but his bullying tactics don't go down well with all the fans.

Vignacio – Right Defender (Kreludor)

Fast, tenacious and exciting to watch, but perhaps a better all-round player than a defender.

Keetra Deile – Right Forward (Virtupets)

A beautiful passer and one of the most electrifying players in the game today.

And the players who, although talented enough, didn't make the list:

Elon 'The Black Hole' Hughlis – Right Forward (Maraqua)

Hughlis seems to have a very high opinion of himself and would, we're sure, be quite happy playing all by himself. Maybe he should try it - then perhaps he'd start to appreciate his teammates more!

Montecito – Right Defender (Brightvale)

'The Baby Faced Mauler' is the dirtiest shover and clutcher on the Brightvale squad, annoys the snot out of opposing forwards and has had more than one run-in with the referee. While the team's fans may appreciate his efforts to stop goals going in, pretty much everyone else thinks he's a hindrance more than a help.

'Dirty' Navers – Right Defender (Lost Desert)

'Dirty' has a reputation as one of the game's roughest players, yet referees always seem a little wary of calling him out on his tactics. Although the Ruki will always claim his tactics are perfectly legal, if a bit aggressive, many of his opponents' forwards would disagree - and have the bruises and scratches to back them up.