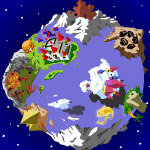 Arranging a Neopian Expedition

by lassie_nikki

--------

Are you and your pets looking for a relaxing retreat? Or are you more prone to exhilarating trips to the most exciting places in Neopia? Either way, you most definitely want to plan your trip wisely! Vacations that are fled to on impulse usually produce problems, so park yourself and enjoy my guide to planning the best Neopian vacation you can!

First, we'll discuss one of the most famous vacation spot in Neopia, Faerieland. Everyone has heard of Faerieland. If you choose Faerieland as your escape, you will be escaping to a land of fun and carefree feelings. One pleasurable activity is the Poogle Racing tracks. These cute critters will run and run simply for the entertainment of onlookers. It's great fun to place bets and watch them dash around the pathway with all their might. Often, your Poogle will win and you could be awarded considerably great prizes depending on how much you bet. Whether you win or lose, the Poogle Races are one pastime that keeps visitors to Faerieland amused for hours. If you're the type to enjoy winning prizes and Neopoints, then another great activity you will find at Faerieland is the Wheel of Excitement. You can win anywhere from 100-10,000 Neopoints. Unfortunately, the Wheel also has a chance of landing on a lightning strike or skull and crossbones which will hurt your pet. It is quite thrilling to watch the wheel spin and wait for your pet's fate! Another more risky diversion is Jhudora's Cloud, where you complete Jhudora's tough quests and are awarded with lovely prizes. She is impatient with her quests, but as your level of quest increases, so does the magnitude of prizes! Faerieland is home to a cuddly little hut where visitors hope to fortuitously snatch up cute petpets. You could also divert your pet for hours of fun by having a competitive Faerie Cloud Racers Tournament! If you are incredibly lucky, you might be awarded with one of the Fountain Faerie's harsh quests, at which point you could visit the Rainbow Fountain and paint your pet a number of luxurious colors for free! The heart of the metropolis, however, lies in Faerie City where a number of fun games and activities (such as the Faerie Crossword and Employment Agency) are played by tourists each day. A special link on a tower in Faerie City leads us to our next destination, Altador.

Altador is one of the newest lands to be discovered in Neopia. There may not be as many attractions as Faerieland, for example, but it is still a pleasant place to relax. It is a land filled with rich, ancient history that you can explore with curiosity. You can shop at Legendary Petpets and hope to snatch a cuddly little Altachuck. You might enjoy shopping for wondrous Altadorian foods sold at Exquisite Ambrosia; they are considered a delicacy all over Neopia. The Altadorian Archives is an enjoyable trip to make. However, they are filled more with mystery than archives. Or at least it appears that way to outsiders who aren't allowed to join any of the number of clubs advertised on the bulletin board. Whether you are much welcomed to the Archives, take a visit to it, perhaps you can start up an interesting chat with Finneus the curious Lenny. The shop of Altadorian Magical Marvels is quite marvelous, living up to its name! You can find many breathtaking potions and artifacts that will interest a number of tourists. The last activity to discuss in Altador is the Armoury, which is very well-known all over Neopia. If you are looking for protective gear and reliable weapons, trust the best in Altador!

Moving on to another imperial world, our next target is Meridell. Meridell is home to so many diversions that it would take an article in itself to describe them all. I will simply illustrate a few of the wonderful activities offered here. During your stay in Meridell, you can take a risky endeavor in making King Skarl, the famous cranky King, laugh like a loon or be banished from his castle for a day or so. Either way, you have a chance of being awarded stale bread! Could it get any better? You can attempt to catch some rare petpets in Ye Olde Petpets or take a chancy shot at waking Turmaculus for which you might either be eaten yourself or witness your innocent petpet being eating alive. What fun! Quite the opposite from Jhudora's Cloud, Illusen's Glade is an enjoyable task for which you will be graciously rewarded by Illusen herself. Turdle Racing is a humble but somehow famous and exciting game that you can partake in. Meridell's neighboring world is Brightvale.

Brightvale is, at its least, a majestic kingdom owned by King Hagan. This land is a great place to vacation for intellectual, wise Neopets and their clever owners. You can spend hours attempting to seem astute to King Hagan himself or shop for the rare potions, weapons or renowned books that inhabit Brightvale. Brightvale is legendary for their delicious fruits such as the Brightvale Berry! Feel like taking a risky venture? Then take a crack at the Wheel of Knowledge where you could obtain an atypical avatar or a lovely stained glass window among many divine treasures. You are guaranteed a pleasurable trip if you choose Brightvale.

If you love snow, then you should jaunt over to Terror Mountain. Despite its forbidding name, the lower levels near the bottom of the mountain are home to Happy Valley, where fun lurks behind every snowman. Here in Happy Valley, tourists enjoy games such as Snow Wars II and Rink Runner. They can entertain your joyful pets for hours! You can grab some ice cream from the Ice Cream Cart and shop for delectable Slushies, or merry little critters such as Wintery Petpets. During the season of Advent, you can even visit the Advent Calendar and receive spectacular and free items daily. That is why I recommend vacations to Happy Valley during the season of Advent. Moving to a higher level of the mountain brings you to the Ice Caves where you can take a stab at the massive, arctic snake called the Snowager, hoping for chilly little prizes. You can trade Neggs with the Negg Faerie at, of course, the Neggery and even take a precarious gamble at the Scratch Card Kiosk. The highest level of the mountain, Terror Mountain itself, allows you to embark on hazardous trips to the Snow Faerie Quests or get great bargains at the well-known Garage Sale. You can spend free time repairing broken toys or buying Chia Pops at the Super Happy Icy Fun Snow Shop! I see no terror in this delightful mountain at all, apart from the Snowager, that is.

Krawk Island is an impish little island. The tricky pirates that inhabit Krawk Island are just waiting to make you look like a gambling fool and take all your dubloons. However, if you plan your trip wisely, things should go smoothly! On Krawk Island, you can train your pet to vigor at the Academy or take a shot at the Buried Treasure game, which is pure luck but quite fun! Krawps and Deck Swabber also make striking games and would entertain you and your pet for hours. The best cuisine in Neopia can be found at the Golden Dubloon which only accepts tourists with dubloons on hand. You will always want to bring dubloons on a trip to Krawk Island, of course! You could spend a day shopping at the pricey Smuggler's Cove or explore Krawk Island petpets found at Little Nippers. There are countless activities for you and your pet found on Krawk Island, just beware of the pirates with hooks for a hand; they tend to be slightly cranky.

Who knew Neopia had so many islands?! Mystery Island, quite different from Krawk Island, is one of the best vacation spots in Neopia for tourists to simply unwind and rest. After a stressful year of work, work and more work, you could sure use a getaway. Well, Mystery Island which happens to be very baffling in itself is a great place for a vacation. Try winning some lovely prizes at Tombola or do a quest for the challenging Flotsam at the Kitchen Quests hut. Even see what might happen in your near future by paying a visit to the Haiku Generator! Take a satisfying ride with the Tiki Tour leader down to the docks where you can spend hours sunbathing on the sunny, charming beach. Mystery Island is one of the most enjoyable vacation spots in Neopia, and among the most popular.

Turning to quite a different area in Neopia, we come to Kreludor. Kreludor is Neopia's moon! Wouldn't it be exciting to tell your envious friends that you traveled to the moon? Well, this vacation is your chance. There are nearly as many activities on Kreludor as there are in Mystery Island, but that doesn't mean it has to be an unremarkable trip! Take a hopeful chance at the Neocola Machine and hope for a valuable prize or scurry over to the lively Coloring Pages that can interest artistic pets for hours. Try out the delicacies found at Café Kreludor or try to acquire some groovy furniture available at Kreludan Homes. You can even find marvelous books at Booktastic Books! The only thing I recommend steering clear of is the Kreludan Mining Corp. where you are crudely ordered to KEEP OUT. Despite this one forbidden place Kreludor makes for a very pleasant retreat.

Moving on, we come to the spookiest escape from work, the Haunted Woods. If you and your pet are into thrills and chills then you will adore the Haunted Woods. Try out the daunting game Castle of Eliv Thade or scamper to complete the testing hunts for Edna the witch. Find Edna's quests too daring? If so, try the other menacing demander-of-goods, the Esophagor. If you collect terrifying petpets, then stop by the Spooky Petpet shop and hope to grab some rare petpets for your keeping. If you are truly looking to shock your pet, try out the Haunted House and see how far you can make it. You are warned however to take caution in doing so, for many have never returned.

If you prefer sunlit, jovial lands rather than the bloodcurdling Haunted Woods, then the Lost Desert is the place for you. Strive for a trophy at the amusing game of Swarm or seek knowledge and insight from Coltzan's Shrine. Visit the ancient city Sakhmet where you can find relics such as ancient pottery or famous scrolls. Battle Supplies and Medicines have recently been instated in Sakhmet due to lack of safety in their last devastating war. Give the Fruit Machine a spin and hope for a paint brush or just walk away with a lowly Bagguss. Speaking of luck games, give the Desert Scratch Cards a hopeful try! The Lost Desert is a significant and notable land that would make your journey a wondrous experience.

The Virtupets Space Station is full of technologically advanced machines and expertise, which is why it is a popular location to vacation in. Have your hand at Splat-a-Sloth or enjoy some ultramodern food in the well-known café called Grundos. The Space Weapons are innovative and esteemed by battlers everywhere, so why not try to stock up on some rare ones while you're there? Fight off wicked Fuzzles in the game Evil Fuzzles or try your patience at Gormball! Did you know that the Space Station is the only place you can adopt a Grundo? What fun it would be to leave Virtupets Space Station with another member in the family. Receive unusual prizes by redeeming codes at the Grundo Warehouse or attempt to find futuristic petpets in the Robopet Shop! No matter what you partake in, the Space Station makes a great retreat for any Neopet and their owner.

Once lying in wreck and ruins, Maraqua was rarely ever visited for vacation. However, now that the war is over, Maraqua is no longer in shambles but is now an extraordinary, underwater Neopian area filled with exuberance. The rebuilding of Maraqua was a quick one and the number of activities is not as numerous as Faerieland but I have faith that the joyful commotion that Maraqua was once known for will soon reside there once again. As for the entertainment you can find now in Maraqua… you can enjoy great seafood at the prominent Kelp restaurant or admire the intense weapons found in the Maraquan Battledome Items shop. Poke fun at the cute, cuddly aquatic petpets known as Maraquan Petpets or marvel at the Maraquan Neohomes, perhaps even buy one yourself! Lastly, take a leisurely stroll to the Collectable Sea Shells store and pick up a few for the friends back home. This will make your illustrious vacation complete.

This brings us to discuss our last world that you could call your next vacation destination, Tyrannia! The ruthless forests of Tyrannia include games such as Mini Golf, Chia Bomber II and the infamous Volcano Run. You will find yourself in awe of the ancient Cave Paintings of Tyrannia and will truly appreciate the history that comes along with visiting the Village. Aim your luck at the Wheel of Mediocrity or sample prehistoric recipes found at the Tyrannian Food hut. All of this entertainment and we haven't even discuss the Plateau yet! On the Plateau you can find the legendary Concert and Town Halls! You could attempt the dreary, mind-numbing Wheel of Monotony or play a difficult game of Destruct-O-Match II. To top it all off, leave Tyrannian with one of their scrumptious omelettes!

I assume you are now just DYING to start planning your exciting trip to one of Neopia's charming worlds. Well, don't delay! I hope my Vacation Planning Guide has helped you to be introduced to the wonders of Neopia and perhaps given you an idea of which vacation-spot appeals to you and your pets. The most important thing to remember on your trip: Have fun!