Headlines
Try your luck!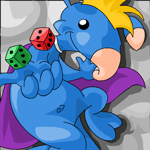 This week's issue is brought to you by: Dice-A-Roo
Other Stories
Why Mystery Island IS Dangerous
Sure, it's all fine and dandy they want to find out, but something remarkably similar to an internal siren was telling me I wasn't going to like how it was going to work.

by noremac9
---
---
NeoLodge: A Place For Comfort or Disgust?
The Neolodge, which is located in the shop center of Neopia, will feed and play with your pets up to 28 nights. But how will I decide which hotel to put my pets in, you ask?
---
---
---
---