Your questions answered!
Read the answers to the most commonly asked Neopets questions this week in the Editorial section. Each week the most popular questions will be answered by one of the creators of Neopets, so keep checking back to stay updated.
Is Neopia Central Getting Boring?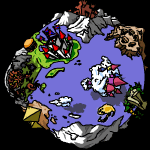 Neopia central is boring. No, not just boring, stark flat out "Nothin's goin' on here…" boring. And I mean that. Naturally, that's why Neopians of all sizes travel abroad, going from land to land in search of adventure, danger, fortune, fame, and some exotic food, drink, and a nice tablecloth... more>>
Why Meerca Chase?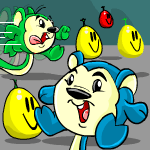 "Earn Neopoints by playing Meerca Chase!" "PLAY MEERCA CHASE." "If you want any money, you need to play Meerca Chase." Meerca Chase, if you didn't know, is the most popular game in Neopia. Right now, at four o' clock on a Saturday afternoon, nearly 300,000 games of it have been played today alone... more>>
Headlines this week include a new look for Grundos (and Edna the witch), the celebration of Lupe Day, and the final installment of our Darigan plot. Read all about it here.
Short But Sweet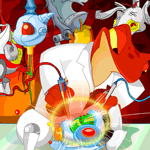 It's the Guide To Neopets Acronyms! (Or GTNA, as some will say ;) This nifty little thing is a compilation of all those groovy acronyms that people are using more and more to sound cool and sophisticated with-so now it's your turn to sound cool and sophisticated, too!...more>>
Other Stories
"Tiny Trio" by bludragn3 - "Hey guys, you've got to see this!" Bluey called. He was at the tip of a blade of grass. Gatling and Dragoon, dwarfed by the giant grass, climbed up and joined him... more>>


"Darth Babaa the Stuper Minion's Mission" by too_kule - "Aw, aren't you an adorable little Tonu!" exclaimed an elderly Grarrl. GoldenRhino stopped dead in his tracks. He quickly put on his 'stuper villain' costume consisting of a fuzzy maroon towel tied around his neck as a cape... more>>


"The Case of the Drackonack Petpet" by leb388 - Yessy was extremely melancholy and heartbroken. After all, he'd been the Turtum in Bullseye, which was destroyed in the Darigans' raid of Meridell. The poor guy was trapped under the broken shards of his catapult for hours... more>>


Five Potato, Six Potato, Seven Potato, MORE!!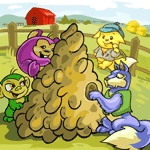 This week's issue is brought to you by: Potato Counter

Submit your stories, articles, and comics using the new submission form.