Editorial
The items used by the one player battledome opponents, like the Lava Ghoul Sword, are these ever going to be releashed, limited maybe?
No. They are unique items that will only ever be used by that challenger.
On the New Features of the 5th of March, there was a feature that said The Shield of Pion Troect is the latest addition to the Hidden Tower. The Hidden Tower part was clickable, but when I clicked it, it didn't work. I also thought about how the Hidden Tower was hidden. Was this a bug or was this done on purpose? - Rock_star_ice_fire
Well you don't seriously think we would post a link to the Hidden Tower on new features did you? I mean it is hidden after all :)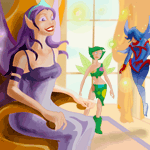 Why is it that when a pet's species is changed that the pet's page doesn't also change?
If the owner has edited the pet's webpage it will not be automatically changed when the pet turns into another species. Some people put an awful lot of time and effort into their pet's webpages and we do not want to overwrite these with a standard template. If you want to reset your pet's webpage go to 'Pet Central', click on 'Pets Page' and then click on the word 'Edit' underneath the pet of your choice. At the bottom of the next page is a button that says 'Reset Page To Default'. Click on that to reset your webpage.
Do the sticky hands (the battledome weapon) let you keep the opponent's weapon that it takes just for the match or forever?
You only have your opponents weapon for the duration of the battle. Once the fight is over it will go back to the original owner.
I have a problem with my Robot Spyder. It won't let me give the spyder to my pet. It is classified as 'none', so maybe that is why it will not work.
That is fixed now, you should be able to equip it no problem.



Will there ever be a create your own neopet contest again? Please I really really want to know. ~ Zainytherandomevent
No, this is not something that will ever be repeated.
How come Mystery Island doesn't have a Return to Neopia button like all of the other worlds?? - Jackiem113
It was one of the early worlds so it was created before we started doing that. It has one now :)
Where is Little Nippers?
It is the petpet shop on Krawk Island.
So just what was the unsolvable puzzle that made Eliv Thade go insane? I bet my friends and I could probably figure it out, if someone were to tell it to us. - Krashenbern
Only Eliv Thade knows what the puzzle was and he isn't about to share it with anybody.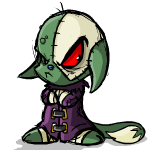 What kind of puzzle was the Gadgadsbogen puzzle (like there are anagrams, mazes, cryptograms, ect)? - Jello_sci1
It was a logic puzzle.
Where can I get a Nerkmid from apart from other people's shops?
If you are really lucky you may be given a Nerkmid as a random event.
I was wondering about the new Haunted Scratchcards. What is the rarest one, is that the only one you can scratch to try and win the Jackpot? - Sami_the_brat
The rarets one is Rotting Riches and yes, it is the only one that has a chance of winning the jackpot.



I was wondering why on the role play boards can't you say certain words. Isn't that the point of role play, or you could add a list of all the words that get you a warning for because I don't want to be frozen
The only words that are blocked or considered unsuitable are things that are either sexual or offensive. Role playing is nothing to do with dating, bikinis or hot tubs.
---
Need more help?
If you have a question that you think should be answered here, e-mail it to editor@neopets.com. The most common/bizarre questions will appear here next week.