Editorial
Are the Neopian schools EVER going to come out? I've been waiting for months! - Rikuypaoputhing
Yes. We are just finishing off the last few changes, then it will be ready for testing. You should be able to play it in a couple of weeks if all goes well.
Why is it that the Uni on the new t-shirt offered by 99dogs.com looks so different from the real Uni? Is the Uni going to be getting a (well-needed) makeover? - Serenitysm
Yes. The Uni is soon to be redrawn so it looks more like the version on the 99dogs t-shirt. In case you missed what that looks like, here you go.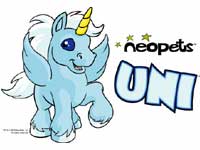 What colours can a Gulper petpet be painted? If they cant be painted, will they be able to soon? - Blazing_Fury_Gang
They cannot be painted any colours at the moment, but I will add them to the list of petpets to do.
Will there ever be a rainbow petpet paint brush?? I would LOVE to paint my doglefox rainbow!! - _Why__me_
Coming right up =P
You know, the art contest isn't very fair. I mean, we have (possibly) people with a college degree in art competing against mid-talented kids like me. Do you think there could be any way to fix that? I mean, think about it. -13 division, 13-20 division, and 20+ division. Is that possible? - TennMagpie
Sadly there is no way to verify someone's age as people would just lie to get the easier prizes for the younger age groups. I do try to pick a variety of ages and abilities from the entries we receieve. If someone has obviously put a lot of time and effort into a picture (even if its not the most polished entry) it will have a very high chance of getting posted.
Have the Plush Gelert Collar and Throwing Bone actually been released? I know they are supposed to be rare, but nobody seems to have one. - Misskeichi
Yes, they have been released, they are just extremely rare.


When will I see a trophy in my cabinet if my story is accepted? Will it be when the next Neopian Times comes out or when my story is accepted?
You will receive the trophy when the issue that your story is in comes out.
Hey! Just wondering....will you ever make new places for Kacheek Seek? It would be really cool. - Chennell17
Ooh... I had forgotten about that game. You can expect some new Meridell themed locations shortly.
What ever happened to the old Island Mystic Guy? Now it's a Kyrii.
The island Mystic must have fallen in the Cooking Pot I guess :)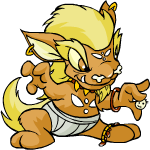 I have a Chia Belt, but no Chia, can I still use it?
No. Any battle or defence item with a species name in it can only be used by that species.
Neopets has been promising the continue the war plot for weeks. When will it come, the suspense is killing me! - Hayabas
There will be another update to the story this week... Keep checking the news page for the latest.
I recently came upon a Kougra Wing Guard and wondered do Kougras have wings?
Yes, Faerie Kougras have wings. Pretty impressive ones too.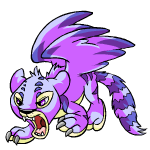 ---
Need more help?
If you have a question that you think should be answered here, e-mail it to editor@neopets.com. The most common/bizarre questions will appear here next week.