Editorial
Will you ever be able to set a link on people's lookups to go to their made-up adventure? Because - when I finish I want everyone to see it! - _Happyhoppy_
Yup, this is already happening.
Is there any way to turn off the sound in the Castle of Eliv Thade game? It plays over the music I listen to while surfing Neopets and drives me batty.
He he, yes. Just click on the Ghost Chia to turn the sound on or off. This has also been added to the instructions page.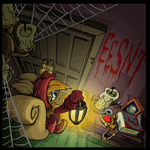 Does anyone regulate the new dictionary entries? For example, if I were to enter the word cyxqua in the new "Add to the Dictionary" page, would that be a "legal" word? - LBtheCC
No, it would not. When you enter the word you are just suggesting it. It has to be approved by a member of staff before it will go into the dictionary.
I've beaten NeoQuest once and I've almost done it twice. I have never found a key for the locked room in Techo Caves Level 3! Is there even one and if there is could you give us a hint as to how to get it?
Sorry... you have to work that one out for yourself...
I fed my pet a 5/6 Chilli Deluxe Pizza but it came up as that I had fed her a Chilli Cheese Dog Pizza is this a glitch? - Urban_angel88lives
Yup, that has now been fixed.



Hi there, I was wondering when we would be able to scratch these new Scratchcards, and if they will always be this expensive (like the Icetravaganza)? - Blue_star_14
All will be revealed shortly :)
I would like to know why you can not look up a Snowickle? You can look up a Fangy and a Faellie but not a Snowickle? - Curious
You can only look up the more common items. Snowickles are super rare so cannot be looked up in the search box.

Is there any relation between the Snowager and the new petpet Snowickle? They look very similar.
There can't be.. I mean the Snowager is a terrifying blood thirsty monster and the Snowickle is just sooo cute =P
Why do baby Shoyrus only come the colour green? Why not blue or red and other colours? - _X_snowangel_x_
All baby paint brushes only come in one colour combination. Baby Lupes are always blue, baby Shoyrus are always green.
Is there any way to get limited edition neopets like Cybunny and Chomby other than the adoption centre, if there is will you please tell me? - Spotsywotsie
From time to time we do release a few thousand more of the limited edition pets. This is often on that pet's special day. Keep checking the news page to see if any have been released recently.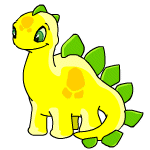 My friends and I have be taking the Which Petpet Are You Most Like quiz and no matter what we pick we are always a Pink Slorg.
How strange... I was a blue Kadoatie...
When I looked up Gelert on the game search, there weren't any games. Can you make more?
The search box on the games room only searches for the titles of games. There are no games with the word Gelert in the title. We will be adding new games all the time but there probably won't be a game with just a species name even if we do a new game that has Gelerts in it. If you are not sure of the title of a game try looking in the different sections such as 'luck and chance' until you find something you like.
---
Need more help?
If you have a question that you think should be answered here, e-mail it to editor@neopets.com. The most common/bizarre questions will appear here next week.