Your questions answered!
Read the answers to the most commonly asked Neopets questions this week in the Editorial section. Each week the most popular questions will be answered by one of the creators of Neopets, so keep checking back to stay updated.
Forgetting the
Soup Faerie?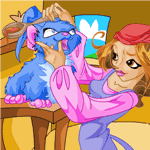 At the edge of Neopia Central, in the Marketplace, stands a large black cauldron. A long line of pets queue next to it, all colours, all species, but all hungry. Kindly volunteers move up and down the line, entertaining the hungry pets, handing out bowls and spoons... more>>
Addicted to
the Times?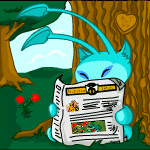 What are the symptoms of this harmful obsession-or perhaps, disease? Well, with the help of some good friends of mine, I've compiled a list of the top 100 ways to tell you're addicted to the Neopian Times. Read it, and perhaps you can alter the fate of someone doomed to be addicted to the Neopian Times... more>>
Headline stories this week include the new game Petpet Rescue, a quartet of recently released toilets, the arrival of Gelert Day, and this year's celebration of Gadgadsbogen! Find all the latest news here.
Outsmart
Eliv Thade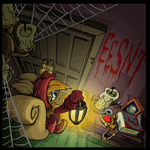 What's the story behind this game? Well, it'd do you well to read the Neopedia Article, but here's a summary of the story. It all began when a Kacheek named Eliv Thade became obsessed over a puzzle, eventually going crazy. After his death, the Kacheek continued to haunt his castle in the Haunted Woods. Now Gilly the Usul has found her way to the castle, and Eliv won't let her out... more>>
Other Stories
"All That Glitters…" by battlesunn - Grifylite was special. He knew he was. He had been told so the very moment that he entered Neopia. His owner was a girl of about sixteen, and she had always adored Eyries... more>>


"Mystery Island's Past" by bellossom45 - "Isn't Gadgadsbogen lovely?" Marie was prancing and dancing like a ballerina, twirling a basket of tropical fruit along the sand of Mystery Island... more>>


"A Pinceron's Feelings" by poy222 - It was a bright, sunny day while Whiss the white Pinceron strolled along the sidewalk, making soft metal noises as his- I guess you could call them- claws once in a while scraped the ground... more>>


Only Once
a Year!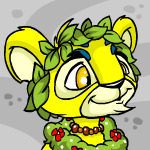 This week's issue is brought to you by: Gadgadsbogen Puzzle

Submit your stories, articles, and comics using the new submission form.