Editorial
Can you destroy the Grarrl in Pterattack?
No, I am afraid no matter what you fire at it, the Grarrl is just to powerful. Try to avoid it if you can.
How do I enroll my Neopets in the Swashbuckling Academy?
You need to go to the Krawk Island (click on explore, them on Krawk Island). The Swashbuckling Academy is on the bottom right hand side of the map. Click on 'Courses', and then choose what course you wish to enroll your Neopet on. Once you decide, you will be told how many Dubloons you need to pay for the course. Give Captain Threelegs his payment and your Neopet will start their course.
Is it true that Coltzan's Shrine gives out 1 million Neopoints?
Yes, there is a small chance that Coltzan will feel really generous and give out 1 million Neopoints. This is extremely rare though, so don't count on it. (The odds are approximately 6 million to 1.)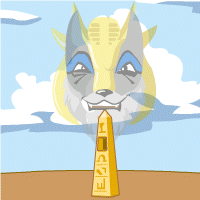 Are you feeling lucky?
If anyone gets a job and joins the Neopets staff will they be able to get the option to get as many NP as you want?
Nope, this is something we do not allow. What would be the point in playing if the staff have all the best items and most Neopoints? Just take a look at my Neopets (Thyassa, Uni or Shoyshoy), they are all weaklings that wouldnt last 5 seconds in the Battledome :)
What does the Faerie portrait do?
The Faerie portrait is a gift, it doesn't change your Neopets or increase their statistics. They are just rumours spread by people trying to get you to buy their over-priced items.

I have an acara. Can I use a faerie paint brush on her even though it's not listed in the rainbow pool?
Nope, you can only use certain paintbrushes on certain Neopets. The complete list of what you can use is here!
If you get a message from the Neopets Team how do you know if it is from a fake or The REAL team?
The official Neopets Team account is theneopetsteam. If you get a message from anybody else, it is a fake. If you get a message asking for your password, or asking you to do something, it is a fake. No member of staff will EVER ask for your password, if anyone does ask you for it, please report them to abuse@neopets.com.
Are Usuki Dolls like Petpets?
No, Usuki Dolls are like Plushies, they are soft toys that your Neopets can dress up in various outfits and play with.



Is it true your account will be frozen if you get too many Neopoints?
Nope, we only freeze a small percentage of accounts. Your account will only be frozen if you break the rules, e.g cheating, pretending to be staff, posting profanities, trying to scam people, asking for passwords. If you earn your Neopoints legitimately, we are pleased for you.
Does a Fish Negg hatch?
No, Neggs don't hatch. They are Neggs, not eggs!
---
Need more help?
If you have a question that you think should be answered here, e-mail it to editor@neopets.com. The most common questions will appear here next week.