Headlines
Hey, Big Spender!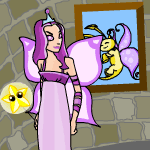 Now that we have our judges here and ready, let's look at our weapons. We grade in A-F format. This week we have to review: battle dung, Jhudoras bewitched ring, sunshine shield, sword of the Air Faerie, u-bend of great justice, ubikiberry bag, and the yoyo of death... more>>
Other Stories
What Does Valentine's Day Mean?
"Happy Valentine's Day!" exclaimed JadePaw the (newly morphed and painted) cloud Draik. She ran up to GoldenRhino and handed him a bright pink Valentine.

by too_kule
---
_Viv_vindA_'s Story
"You're home! You're home!! Did you bring us a sister?" a blue Kougra asked.
---
Owning a Desirable Shop
It is not necessary that you have a generally good shop title or greeting, but having both of these makes it more likely for someone to visit and revisit your shop, which will [hopefully] give you more profit.

by apparent
---
---
The Zafara Assassin 3: Eternal Dreams
I heard a soft sound behind me, and as I opened my eyes, I saw something peeking up at me through the waters. I rolled over, still laying against the ground, to try and get a better look at whatever it was.

by meratocat
---
What Came Before the Number Five
"Well, are we going to leave him standing there, or shall we show him the hospitality of our fair kingdom?" called the food shopkeeper, a green Jelly Kacheek.

by noremac9
---