Editorial
Will we be able to use Abilities soon for other things than the BattleDome?
No, abilities can only be use during a battle.
How do I use the Cooking Pot?
If you put a selection of items into the Cooking Pot, you may create something very special. There are many different recipes to discover, you can make anything from rare foods to super rare Petpets, you just need to find out what to put in the pot :)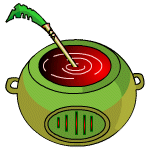 Is there a store where you can buy all the things in Neopets for 1NP?
I wish... then Thyassa would always be fully fed :) I am afraid this is yet another little fib, there is no such shop.
How do I get a Neodeck for my collectable cards and can I put my booster pack in there also?
You can get your Neodeck by clicking on 'Games' in the yellow side bar. There is a link at the bottom right hand side of the games page with the words 'Collectable Cards' written under it. Click on that...
I am afraid you cannot put your booster pack in your Neodeck, but you can put it in your safety deposit box if you do not wish to open it just yet.



Does Adam really give away rare items and nps to those who have been playing for over a month and have more than 50,000 nps if you send him a message on aim?
Nope, but silly little scammers who are pretending to be him say that to try to get your password. Nobody from Neopets will contact you via aim, and nobody will EVER ask for your password. If someone is claiming to be a member of staff, or know their aim names, just report the offending username to abuse@neopets.com!

Don't tell anyone your password!
Can I sell my Neohome once it has been built?
No, I am afraid you can't sell your Neohome, or the land it was built on. Once you decide to purchase some land, it is yours forever so choose wisely.
Someone told me that FISH EGGS turn into FISH NEGGS. Is the rumour true?
No, for the last time there is no way to create a Fish Negg. There is no recipe for Fish Neggs and anyone that tells you they know how to get free Fish Neggs is just trying to trick you.



What do the pirate pets do in Deckswabber?
They slow you down and take away your health. Try to avoid them if you can. The only exception is the skeletal Kiko who kills you instantly if you are on the same square as him.
People keep sending me things that say if you tell five people or 20 people to delete their unused accounts they will get five Neggs. Is this true?
Nope, its another silly chain letter, just delete the neomail and report the sender to abuse@neopets.com!
How do I send a story/article/comic/guild to The Neopian Times?
Simply email your story, poem, comic or guild to Neopiantimes@neopets.com along with your username. If you are entering your guild for the spotlight, remember to include a few paragraphs explaining why your guild should get the spotlight and your guild logo.
---
Need more help?
If you have a question that you think should be answered here, e-mail it to editor@neopets.com. The most common questions will appear here next week.