Your questions answered!
Read the answers to the most commonly asked Neopets questions this week in the Editorial section. Each week the most popular questions will be answered by one of the creators of Neopets, so keep checking back to stay updated.
Zartrex the Grundo is Really Better Than You!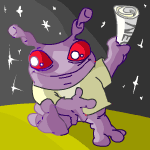 Well, most of you anyway.... Is Zartrex really that hard to beat? Is his passion for smashing Sloth's ugly face in too strong? Or is Zartrex just Better Than You at Splat-A-Sloth? He probably is since he was Sloth's personal assistant for six long years, and has been waiting ever since to give that green chicken head a ripe smashing. You have no idea how happy he is to be a part of this and thanks all of you for each direct hit.
Battle On, Tiki Tack Man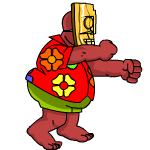 Seconds before the Tiki Tack Man decided to accept Battledome challenges he was seen storming away from a group of haggling Neopians right outside of his shop. "Bargains, bargains, bargains," he allegedly said, "Always looking for a bargain! I mean, how am I supposed to pay off my Transparishield NeoHome? A guy's gotta make a profit! Right?"
The Neo-Market Report
Joining Neil and Maria today will be Exselciore the Scorchio, founder and President of EEEEEURGH!!! Ltd. Exselciore will discuss the market for inventions, as well as what the future holds for EEEEEURGH!!! Ltd. Get all the latest news here.
Robotically Insane!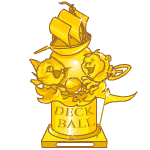 The first round of the The Krawk Island Cup went off without a hitch, though some people should have practised a bit more or taken some lessons from Mr. Roboto and/or Mr. Insane. Both went undefeated and are the current favourites to win it all. For more news on the Deckball Championships go here.
Guild Spotlight
For entries into guild spotlight: neopiantimes@neopets.com
Neo Crazy - Is it crazy in here or is it just you? Thought so. Huh? Stop that. What did you say? Hey, where did you go? Wait, come back! Anyhow, if you're crazy for NeoPets, then this wild and crazy guild is for you. And if you're just plain crazy, then this guild is for you too.


NeoFood Circle - Mmmm.... a Choco-Strawberry muffin! With all the new foods in Neopia, it's kinda hard to keep up! The NeoFood Circle guild likes discussing new creations, along with cooking pot recipes and other helpful hints. They also sample new savoury creations! So come on, join their Food-lovers paradise! Just try to keep the weight off!


Usuki Collectors United - Do you collect Usuki dolls and accessories? Yes? Well, the U.C.U. guild is for you! Here we can play Usuki, compare play sets and create a whole new world! Our goal is to create a happy environment where Usuki collectors can gather, chat and have fun! If you join this new guild, that goal will come true!


You Wanna Be a Pirate?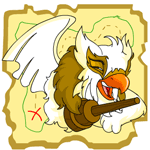 This week's issue is brought to you by: Cap'n Threelegs' Swashbuckling Academy

Submit your stories, articles, and comics using the new submission form.