Your questions answered!
Read the answers to the most commonly asked Neopets questions this week in the Editorial section. Each week the most popular questions will be answered by one of the creators of Neopets, so keep checking back to stay updated.
Neopian Times Day: The Forgotten Holiday?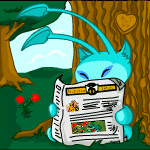 I was looking through the Neopian Calendar yesterday, making notes on the upcoming holidays, when I noticed something very strange. There's Kougra Day, there's the Day of Giving and Lupe Day... but why is there no Neopian Times Day?... more>>
The Story Behind Neopia's Weirdest Foods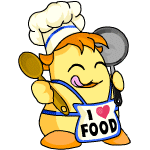 The Neopian menu has the weirdest foods. That's not new, we've all heard about the odd combinations found in the stores, but did you know they were not created randomly? Okay, some were in fact created randomly or by chance, but there's a story behind them all. It's exactly those stories I want to investigate and share with you... more>>
This week, our headlines include a strategy game called Meristones, Harris plushies, the Deserted Playground and a dreaded debut for the Tax Beast. Get all the latest news on these and other stories here.
Every Stamp Tells a Story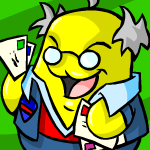 Hello and welcome back stamp collectors! It's time for another exciting (or hopefully, at least, mildly interesting) edition of Every Stamp Tells a Story. With Halloween over and the chill of winter slipping down into Neopia Central from the peak of Terror Mountain, many are contemplating warmer retreats for the next few months... more>>
Other Stories
"The Villain License" by averyangryshaylir - Myyth awoke with a start, rubbing his eyes and orienting himself a little bit. He quickly realised that Shaeylan, now finally settled in the form of a Baby Kougra... more>>


"Never Spend Halloween With a Lupe" by stoneman3x - This was not what I really wanted to do on Halloween. I wanted to bob for Organic Green Apples or play Pin-the-Tail-on-the-Meerca. I really really really and even really did not want to go to the Haunted Woods... more>>


"Attack of the Peanut Butter Pizzas" by squieshie - I sat at the table, with all of my siblings, Saokiey, rayneboery, and Waffle-Ducky sat around the kitchen table. Our owner, squieshie was out doing errands, like she always did on Sundays. She would always bring us back grand treats, and we would snatch them from her, and run off and eat them like pigs... more>>


Made with HauntedTM Wood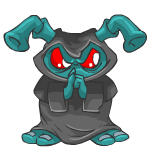 This week's issue is brought to you by: Spooky Furniture

Submit your stories, articles, and comics using the new submission form.