Your questions answered!
Read the answers to the most commonly asked Neopets questions this week in the Editorial section. Each week the most popular questions will be answered by one of the creators of Neopets, so keep checking back to stay updated.
Hail to the Form Mail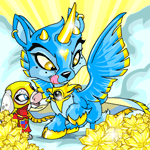 So, you've submitted your work to the Times, and you're sitting around, anxiously watching your Inbox for word of how they liked it. Perhaps they'll be sending you a "This is the best article we've ever received!" or a "Wow! This deserves two trophies, it's so wonderful!"... more>>
Living without Maraqua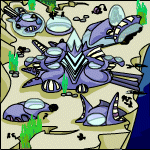 Most people who know about Maraqua should know it has almost been an entire year since the destruction of the aquatic city. It was a great world, although simple and small. But there has been no world to replace it... more>>
Punk rock fever invades Neopia as Moehawk take the stage. Also featured: three more baby pets and the celebration of Blumaroo Day. Get all the news here.
Preparing for the War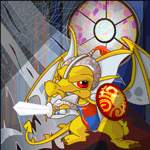 War clouds are gathering above Neopia and tension is hanging thick in the air. According to statements made by the NeoPet Staff on the news page, a war will soon come to Neopia. But instead of just waiting for it, take the smart step and prepare for the war... more>>
Other Stories
"Behind the Destroyer" by tdyans - The door to the humble cottage swung open and a young blue Wocky stormed out.
"Laughter is the Best Medicine" by battlesunn - Slammy slithered stealthily up the doorframe, precariously shifting his weight to keep a better hold on the pot of mushy musho peas. Slammy cringed... more>>


"The Lab Ray's New Creation" by hivenperious - The day was stormy, as the rain came down with the strength to knock down some houses if they were not sturdily built. The lightning flashed almost every second... more>>


Cute Little Critters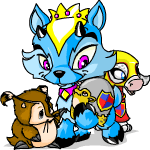 This week's issue is brought to you by: Ye Olde Petpets

Submit your stories, articles, and comics using the new submission form.