Editorial
Why is it that you guys only put Aishas on the sale at limited too?
Its not just Aishas, you can buy Cybunnies, Chias and Scorchios. Plus you will be able to buy Blue Kacheeks very shortly.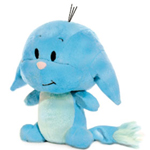 I cannot get my furniture to go on top of my rug in my neohome! It all goes underneath my rug. How do I get all of it to stay on top of my rug?
This is answered in the help section, click on HELP in the yellow side bar, then type 'Neohome' in the search box underneath Sarah the Zafara. Read the 'How do I move my furniture' answer.
I went to my shop and all my Magical meerca plusies were now non- magical. What happened?
We explained this in New Features when we did it. Due to a Meerca Chase cheat there were so many Magical Meerca plushies that they were selling for 1NP each. This is a ridiculous price for something magical, so we made them non-magical.



Are you going to retire anymore of the cool paintbrushes?
Not that I can think of right now. We may re-vamp the shadow one so it looks more shadow-like, but there are no plans to retire any paint brushes as yet.
Who was that girl on the Neocam on the 26th wearing the Kougra T-shirt?
Ugg.. that was me...

Can players still haggle for shop prices? When I click to buy an item in a shop, it just gives me a box asking if I want to buy it with no haggling option.
Yes, you can still haggle as normal, just press yes you want to buy it and you will be taken to the haggling screen.
What was the Meerca Chase cheat? Just wondering..
Nice try wise guy... It doesn't work anymore :)
If you have a stone paintbrush, will the paintbrush automatically be changed to a mystery island paintbrush or will it just stay a stone paintbrush?
It will stay a stone brush. The stone brush will not do anything to your Neopet anymore, but it is a rare momento of the good old days.
I looked up a Tooth Faerie doll in the shop wizard, but couldn't find it. I know it exists, but what does it look like?
Here you go... pretty isn't it!

Would Neopets be shut down if either Adam or Donna died?
Wow, you are an immensely cheerful person aren't you!
I was wondering how you can get a Magical Blueberry Chia Pop?
They are incredibly rare, but you can buy them at the Happy Icy Fun Food Shop at the top of Terror Mountain.

Why is my Meerca bored of Kacheek Seek?
I guess you have been playing it too much, try playing some other games for a while.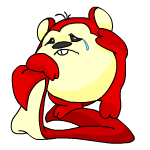 How are users compensated for items that are permanently removed from the site?
We never actually remove an item from the site, if a sponsorship ends, we sometimes replace the sponsor related item with a new Neopets item that nobody else can get unless they had that particular sponsor item.
Does Chia Flour work on Faeries?
If you mean on pets that are painted Faerie, yes it does work. If you are talking about one player battledome challengers, such as the Pant Devil and some of the faeries, no it doesn't affect them.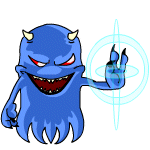 Ha ha... you're not turning me into a Chia!
I'm planing to buy some Neopets merchandise and I was wondering if you could tell me what items have rare item codes on them?
The items containing rare item codes are
Stickers
Notebooks
Magnets
Neoscapes
Plushies do not have rare item codes on them.
---
Need more help?
If you have a question that you think should be answered here, e-mail it to editor@neopets.com. The most common questions will appear here next week.