Editorial
How do you get Tyrannian Army points?
I am afraid you cannot earn points for the Tyrannian Army now. They were awarded to brave Neopians who helped fend off the Monoceraptor and free Tyrannia.
If a pet stays in the Pound for too long do you put it to sleep?
No, the kind Dr_Death looks after unwanted Neopets until they find a good owner.
How do I relocate my Neohome?
You can't, once you have chosen a location to build in, that is where your Neohome stays. Make sure you think carefully where you want to live BEFORE you start building your Neohome.
Can you withdraw from the Training School before you pay for the course?
No, once you enroll your Neopet in a course at the Training School or Swashbuckling Academy, you need to wait for your Neopet to complete the course and then pay the correct amount.
I just wanted to know if we can still find the Blumarooo and battle with him because I didn't get a chance to do so?
Yes, Count Von Roo will be challenging Neopets in the Battledome every day. You can only battle him at certain times though, he is a vampire you know and cant battle in broad daylight :)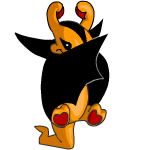 What are the guidelines for reporting a shop?
If you notice something odd, profane or against our terms and conditions (live chats, anything sexual, offensive language or images, etc.) please report the shop. We will check it out and if it is breaking any rules, we will take appropriate action.
Will there be more things that use Dubloons?
Yes, everything on the new Pirate world will need Dubloons so you had better start practicing your Deckswabbing :)
There is a rumour starting, that if you starve a pet then feed it a cool negg, and other neggs, that the pet will get more benefits than if is satiated or not hungry... is this "just a rumour" or should you starve the pet to get maximum benefits from neggs?
Yes, it is yet another silly rumour. There are no benefits or starving your Neopet. It is cruel, and you will not be able to fight in the Battledome. You will not get ANY extra benefits if you treat your Neopets badly!
Someone said if we voted for them in the Beauty Contest, you would make a special paintbrush, is this true?
No, if we are going to create a new paintbrush, it will be announced on New Features. That was just a scam to get you to vote for their Neopet in the Beauty contest, the offending user has been disqualified from this week's round.
What do you mean by 'No Contests'?
It means no contests, lotteries, raffles, competitions, caption contests, mystery pic contests, anything where a user has to do something to have a chance of winning. Honest give-aways in the Money Tree are fine, but any form of competition is not permitted.
---
Need more help?
If you have a question that you think should be answered here, e-mail it to editor@neopets.com. The most common questions will appear here next week.