Headlines
Well, Don't Just Stand There...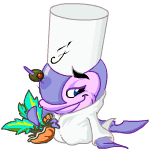 Okay, I'm guessing roughly 94.523 and a half percent of all people in Neopia know what the Mystery Island Kitchen is, but then again, I got a C in Math recently. But anyway, let's start with how I begin my Mystery Island Kitchen Quest... more>>
Other Stories
---
Antikia Lighten
At first chance, the purple Shoyru flew off, leaving her new owner shouting after her.
---
---
Taking Life One Chia at a Time
Whoops, there goes his head, revealing a rather interesting dome of titanium steel. No, this is definitely not your ordinary Lupe chew-toy.
---
---
---