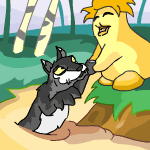 A Chia Saved His Life: The Story of an Enlightened Lupe
Feeling more and more agitated, Evan grabbed his blue Chia plushie in his jaws and shook it as hard as he could.
by ladyofsylla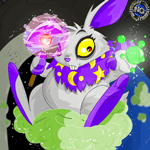 A Meal Worth Fighting For
Inside, there was a mound of treasure. I'd never seen anything like it. It was made of stuff that wasn't found in Tyrannia.
by moovin_n_groovin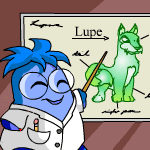 Al's Adventure
He was tied to a totem in the middle of a ring of fire, the Lupes laughing and dancing around him.
by al_the_chia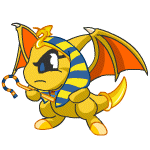 Elemental Distortions
She looked up, and found herself staring into a pair of purple eyes. She stood up and looked more carefully...
by selphie_tilmitt
Milk and Onions
They heard footsteps. Julyanni peeked around the wall to see their daddy fetching the house keys and putting his jacket on.
by krazywestie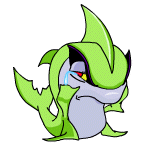 My New Sister
I turned away, little droplets of tears falling down my cheeks. RazielSama turned to me and frowned, as if he were upset at the conditions too.
by jadebaby288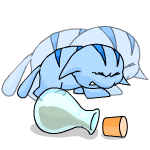 Potion Problems
A flame was lit and Pink and Shad stared in horror as the Poogle began to stretch and morph...
by billabong_baby88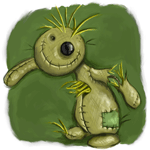 Punchbag Bob - Behind the Bag
When I looked in the mirror I saw a young, brown bag like thing with one large black button eye.
by catiegurl87
The Kiko Who Was Afraid of Water
My owner looked slightly mad, and very confused.
by chelkeycat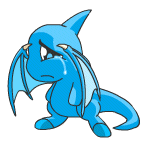 The Sad Shoyru - Transcribed
"It's not my fault I got bad stats. Please! Please keep me!!" he pleaded.
by ducky86114
Headlines
What Do Neopia's Scurvy Seadogs Have in Common?
They all play Armada!!! Arrrr... jump aboard ya scurvy seadog, and take ya move before I have to teach you a lesson... Garr... ya couldn't teach a Snorkle a lesson, you lilly livered coward...
Other Stories
---
A Survivor's Guide to the Chatroom
When you start to post a board, try something catchy, like this: Stardust the white Lupess runs through a field, running away from something out of this world...
---
The Kontana Scroll II: Part One
Those scrolls are very useful, giving every answers and secrets to just about everything. Now, the legend says that the scroll is shattered in the land northwest of us.

by kiwifruit487
---
The Little People: Part One
It's one big place, crawling with big, scary NeoPets like the Grarrl and the Skeith. Chock-full of big quests, big adventures, big challenges.

by liuliu
---
---
---