Your questions answered!
Read the answers to the most commonly asked Neopets questions this week in the Editorial section. Each week the most popular questions will be answered by one of the creators of Neopets, so keep checking back to stay updated.
Stop Those Shoppers!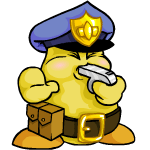 Are you a shopkeeper who doesn't want to sell anything? Annoyed when fellow Neopians come to put money in your till? Tired of putting all that money in the bank? I know just how you feel! It's terrible when you make a profit, isn't it?... (read more)
Lifestyles of the Rich and Tasteless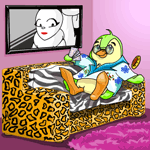 So you've finally been inducted into the Neopian elite by making your first million. Now what? Well, I've done some serious research and believe me, I've seen it all. From tacky to tasteful. From a house filled with dung furniture, to a Valentine's themed mansion, to shops filled with expensive, yet useless items.... Some Neopians just don't know how to spend their hard earned Neopoints... (read more)
The Neo-Market Report
Given the economy's latest upswing, many analysts would consider this the perfect time for a new company to enter the market. This week, we
Gnomebody Loves Me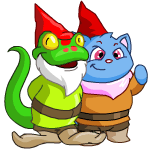 Gnome madness has been sweeping Neopia since the day they arrived. It's like the time when Usukis first came out. Everybody has to get them all, and Neopians are willing to do anything just to get their hands on a Techo or Wocky-shaped piece of plaster, or, rather, GIF file. And what for? To display it in a garden... (read more)
Guild Spotlight
For entries into guild spotlight: neopiantimes@neopets.com
The Original Chia Club - Chi Chi Chi Chias! The first ever guild for Chias and Chia lovers! Lupes are welcome as long as they can contain themselves! If you love Chias and/or can't resist fruit with faces, then this is the guild for you.


Average Neopoints Member Guild - Do you have an insane amount of Neopoints? Are you a regular at the Soup Kitchen? If you answered "no" to either of these questions, then you are an Average Neopoint Maker. Hey, there's nothing wrong with middle of the road, just as long as you get out of the way.


Paradoxic - A seemingly contradictory statement that may nonetheless be true: the paradox that standing is more tiring than walking. It is an assertion that is self-contradictory, though based on a valid deduction from the acceptible premise. Huh? To find out more, join now!


Ultimate Power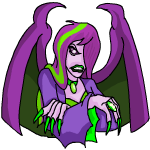 This week's issue is brought to you by: Jhudora's Cloud

Submit your stories, articles, and comics using the new submission form.