Headlines
Sprung Up Again!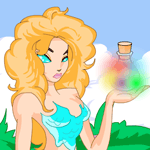 Don't call it a comeback, because the Rainbow Fountain is back but only for a limited time. Rumour has it that Neopians from as far as Krawk Island are lining up to get a little colour in their lives. Make sure you get your Fountain Pass today! You might even want to get two or three....
Other Stories
---
Beauty is a Curse
The day before the contest was the worst for Diva. She had to get up early and go to the beauty parlor all day.

by Taytees1520
---
---
Buying on NeoPets
Naturally, you will want the lowest price possible, and this can take some searching, especially on the more expensive items.
---
---
Fight for Fate: Part Two
There was also sword. It was much like the dagger with a golden blade, but it was unique and looked like a belonging of royalty.
---