Headlines
Another Year Older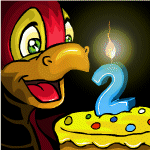 Another year wiser.... On the 15th of Storing, NeoPets turned a whopping two years old. The staff celebrated by eating bowls of Toenail Soup, a few thousand Pork Snouts, and a couple hundred bowls of Snorkle Pudding. A few hours into the party, Wolverine went looking for his trusty bottle of Flat-u-less Tablets. All in all, the party was a gas.
Other Stories
---
Beauty is a Curse
The day before the contest was the worst for Diva. She had to get up early and go to the beauty parlor all day.

by Taytees1520
---
---
Buying on NeoPets
Naturally, you will want the lowest price possible, and this can take some searching, especially on the more expensive items.
---
---
Fight for Fate: Part Two
There was also sword. It was much like the dagger with a golden blade, but it was unique and looked like a belonging of royalty.
---