Headlines
Saying "please" & "thank you" Also Helps...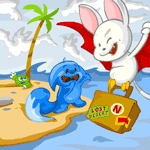 Everyone in Neopia has had a Neopets-related question before, even you. If you think you haven't, think harder because I guarantee you have at some point. Sometime in your life, you've wondered something like, "I wonder where the Fruit Machine is?" or "I wonder how you get that cool secret avatar?". Everyone has wondered things like these!... more>>
Other Stories
---
Torn - Sirenes Story
I put my face in my paws and sobbed. I couldn't choose. I didn't know where my heart really lay.
---
---
BOOMs Big Bang
The company of Boom Boom Boxes has been quite successful, so what happened that made the company explode?

by sparky63428
---
Princess of Erodaire II: Part One
The moment I first laid eyes on Lady Vevina, I hated her with a passion. Although I knew that my father was not able to see through her sugary outerself, I knew who she truly was.
---
Forgotten Hope: Part One
"Listen, Kalina," he said, dodging another Darigan warrior, "you don't have a sword, you don't have training, and your our only hope of finding the way out. Now GO!!
---