Your questions answered!
Read the answers to the most commonly asked Neopets questions this week in the Editorial section. Each week the most popular questions will be answered by one of the creators of Neopets, so keep checking back to stay updated.
Aaaand... Sold!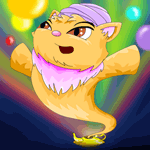 I invested 10,000 NP in TAG last week. I never play the stocks, I've only bought one other stock in my whole Neopian career. Why did I throw 10k down with such ease of mind? Well, to tell you the truth, The Auction Genie (TAG) is my friend. Him and the Shop Wizard. Those guys are almost as essential as Breads and Bottled Waters. However, most mice just pass over the little hammer on their way to the blue tent... more>>
Mutant
Madness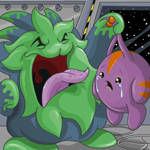 They're everywhere, poor twisted mutants created by the vain intelligence of Dr. Frank Sloth. First it was just the Grundos, but it has spread until now more than half of the pets on Neopia have a distorted version of themselves flying, swimming, or schlepping around scaring baby pets and innocent passersby. But where did they come from? Why are they here?... more>>
For Better or Verse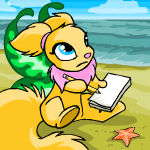 When someone is talking about a "regular" on the NW, they probably mean a person who is good at writing and is found on the board a lot. Almost every NW regular has perfected the art of delivering a captivating story and then asking for concrit and getting lots of praise... more>>
Other Stories
"Before the Beast" by mrs_fluff - "Not all of the worst monsters in Neopia were born evil."... more>>


"Seeing the Truth" by ginger23456 - Verity was a starry Lenny and had been born with this strange and powerful ability... more>>


"Winds and Woes" by erokai - The source of their disappointment was quite obvious, considering the surprising turn our luck had taken... more>>


Oh, What a Tangled Web We Weave...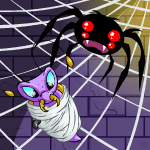 This week's issue is brought to you by: Web of Vernax

Submit your stories, articles, and comics using the new submission form.