Headlines
PetPets Get Spooked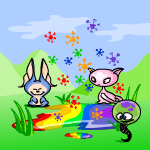 Something very eerie happened this week at the PetPet Puddle. Apparently, PetPets, including Greebles to Whoots, got spooked out when they went near the puddle. No one knows for sure what happened, and many NeoPets have already been speculating how something so cute can get even cuter.
Other Stories
---
Chia or Cheeseburger?
I opened my mouth with delight, my tongue was drip, drip, dripping--I wanted a Chia burger.
---
The Right Way to Adopt
The purpose of this article is to show some other reasons for adopting that you may not have thought of before...

by tdyans
---
---
---
---