Your questions answered!
Read the answers to the most commonly asked Neopets questions this week in the Editorial section. Each week the most popular questions will be answered by one of the creators of Neopets, so keep checking back to stay updated.
Muuaahaha!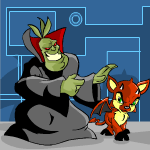 Talk about hot stuff? Call me Frank Sloth, Doctor of Love. Mwhaha! As well as being witty, I will prove to you how sensitive and serious I can be. Well forgetting that, I'm stuck in a second childhood (trust me, it can happen when you are 200 years old!) obsessed with toilet humour... more>>
Reach For the Top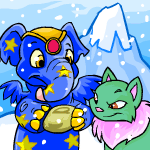 H-hello adventur-turers! It's m-me again! Boy is it cold up here on T-terror Mountain! I stopped in this shop t-to see if I could buy a cup of hot cocoa, or m-maybe some borovan so that Neofaerie and I could w-warm up, but all they have in here is snow food! Well, maybe writing this adventuring guide to Terror Mountain will help me take my mind off the c-c-cold!... more>>
Baby at Heart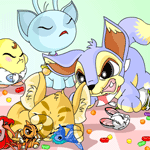 From the time of its release til now, the Baby Paint Brush has stirred quite a bit of controversy amongst Neopians. They seem content to argue to no end discussing everything from the Baby Paint Brush's effect on pet's coordination and comprehension to the advantages it must provide to Battledoming pets... more>>
Other Stories
"Losing Lepp" by charmedhorses - "Okay, well the Turmaculus should be right… over… there!" Purlp exclaimed... more>>


"Of Faerie Slingshots and Color Mixes" by taipeiss - "Wow, Daine, this is a Faerie Slingshot! Isn't it spiffy-looking?"... more>>


"A Special Valentines Gift" by chia_lover01 - Snow's heart jumped with joy, she found the perfect gift!... more>>


Gifts Galore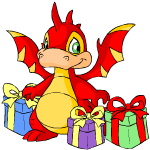 This week's issue is brought to you by: Neopian Gift Shop

Submit your stories, articles, and comics using the new submission form.