Headlines
Destruct-o-Facts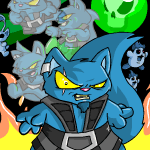 When I first played MAGAX: Destroyer I hated it. Magax was hard to control and kept gliding into those Ghosts. The fact that Hubrid Nox hovered over his head didn't make things better. Then I noticed the high-score table. I realized that the score was very low compared to how hard it was to get into other games high score tables. The key to get a good score is controlling Magax properly; this isn't as hard as it looks on the first try. You don't choose the speed at which Magax moves, you just point him in a direction and he will start accelerating in that direction... more>>
Other Stories
Grey
I continued staring into the Grey Faerie's eyes, unable to let go of her gaze. I tried really hard to look away, but I couldn't... I didn't want to.
---
Eve
"Do you think there's more to Christmas? More to it that getting gifts?"

by arula100
---
---
---
---
The Haunted NeoCamp: Part One
There was a faint squeak that came from under her bed. I dropped to the floor and peered under. There was poor Shawbrea huddled in a ball weeping. I sighed and pulled her out.
---