Your questions answered!
Read the answers to the most commonly asked Neopets questions this week in the Editorial section. Each week the most popular questions will be answered by one of the creators of Neopets, so keep checking back to stay updated.
Sure Beats a Lump of Coal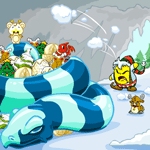 Ah, tis that Christmas season once again. If you haven't yet been alerted to that fact through rabid shopkeepers hawking their Christmas wares, the mandatory fake Raindorf antlers (at least I hope they're fake), and the fact that I actually said 'tis', well you've been alerted now. Christmas is all about joy, and caring, and… well, you know the rest. But the thing that little Neopets enjoy most about Christmas is this -- the presents. I know. Shocking, isn't it... more>>
Limbo and Mistletoe?!?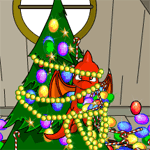 Well, what are you doing, sitting there!? Giving's right around the bend, and your Bamboo hut is still without a single ornament! WHAT?! What do you mean you live on Mystery Island so it doesn't matter? Of course it matters! It's Giving! I'm here to tell you all about decking your beachside home with holiday cheer, and make you realize that no, you don't need to live anywhere near Terror Mountain to have a festive dwelling!... more>>
Cuttings Costs for Christmas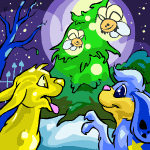 Well, folks, it's that time of the year again. The time when rich owners dole out Neopoints lavishly on fancy items for their pampered pets, the time when users from every corner of Neopia flock by the thousands to the Advent Calendar for gifts, the time when groups of Neopets prance by with sugary treats clasped in their paws, singing merry carols of Neopian Christmases long ago. ... more>>
Other Stories
"The Christmas Spirit" by drhull - We were truly the picture of family at Christmas time. Alanna warmly embraced her cousin, Terkiri, and Ariaa and Flawkers sat together, staring up at the Christmas tree with awe as the sung... more>>


"One Special Christmas" by skier_chic - "I need a brother or sister. I can't stand being alone in this Neohome for much longer. Mom is out all day and I'm stuck here. I want some responsibilities!... more>>


"He's Behind You!" by plushieowner - "Unemployed? Look! Jhudora needs you as her new cook!"... more>>


(Chia) Pop Til You Drop!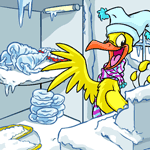 This week's issue is brought to you by: Happy Icy Fun Snow Shop

Submit your stories, articles, and comics using the new submission form.