Editorial
When was NeoPets founded?
NeoPets first went live on November 15th 1999, so we are almost 2 years old! Hurrah!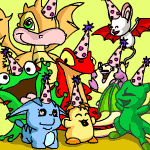 Is the Rainbow Fountain ever going to come back, and if so, when do you expect it to be up?
Yes, we are planning to bring back the Rainbow Fountain and make it available to everyone, it should happen either next week or the week after.
Once you've used the map pieces, can you use them again?
No, once you trade in your map pieces and collect your prize, they will be taken away from you.



Can you get rid of your Neodeck if you do not want it anymore?
No, You cannot delete it, but you can remove all your cards from it and just never go to it again.
Does every neopet get its own day to honour it?
Yes, every Neopet has a special day, you can see when your favourite Neopet's day is by checking the Neopian Calendar. You can find this by going to 'Worlds' and then 'Calendar'.
When you conplete a quest from the brain tree you said you can get splinters. What are splinters and if your pet gets then what will happen to it?
Brain Tree splinters are a type of weapon that you can equip your Neopet with and use in the Battledome!


If I have suggestions or bug reports towards improving any of the flash games (such as Pterattack, for example) where can I mail those?
You can report any bugs to bugs@neopets.com. Be sure to include a full explaination of the error that you found and your username so we can get back to you for more details if necessary. If you have any suggestions for new games or improvements, please email them to Gameideas@neopets.com.
Why don't you charge people to play NeoQuest? Then it will limit the number of people who play and you can keep it up all the time!
NeoPets is completely free and we want to keep it that way. We do not want to start charging people for any activity on the site as it is not fair to those that do not have access to credit cards or cannot afford to pay for it. NeoQuest will be available 24 hours a day soon, just bear with us, and don't worry as you will NEVER have to pay for anything on NeoPets!



To get a bank account you need to have a job but I don't have a clue how to get a job. HELP!?
When you set up your Bank Account, you need to give a job. This job is a made up thing such as Wocky Warden, it doesn't matter what you put, just choose whatever you would prefer to be.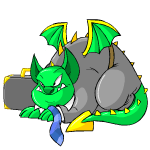 Smuggler's cove is very cool but I wanted to know that is there any way to know when the items will be restocked. Are they restocked at the restock times?
No, I am afraid it is very unclear when the Smugglers manage to get hold of anything, it is just whenever something interesting gets washed up on the shore, or they manage to get their paws on something.
How can you tell if your age group has been changed when it's your birthday?
If you have just recently turned 13, you will be able to access the messageboards (click on 'Neochat' in the yellow side bar) and send messages to other people via Neomail. This is the only time you will notice a change following a birthday. If for some reason your account hasn't been updated and you do not have access to these areas following your 13th birthday, please email consent@neopets.com with your username.
---
Need more help?
If you have a question that you think should be answered here, e-mail it to editor@neopets.com. The most common questions will appear here next week.