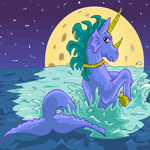 Ever since the time Seth had first seen the Peophin, he had known he wanted her and only her for his pet.
by shelleylow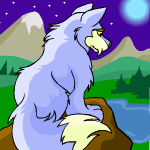 Garoth's paw shot up, and the teacher called on him. "Is it possible for the moon to appear blue?" he asked hopefully.
by tolkienlordofthering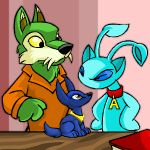 The Lupe Who Didn't Hunt Chias: Part One
The blue Aisha sitting next to me glared and moved back a seat. What's up with her? I thought. As she moved toward the back of the room, I heard her mutter something about Chias.
by monstermaniac184
Headlines
"Popular at Last" by arula100 - "Today I'm going to sit with the popular pets," Poledra announced proudly, a smug smile creeping into her features. Each time she said it, she believed herself more and more... more>>


Other Stories
Rice Cracker Rush
"No, they're not coasters, silly," Azure said, grinning, "they're rice cakes. They're very healthy."

by bludragn3
---
Ameesa's Clearing
Ameesa couldn't fall asleep, but at the same time, she didn't want to, because that meant that morning would come and she didn't want that to happen because that meant Neoschool…
---
---
Caption Contest Blues
Don't worry, help is on the way! I am not that good at making captions funny, but I can surely try and help a fellow Neopian out.

by kkaf1675
---
---
---