Your questions answered!
Read the answers to the most commonly asked Neopets questions this week in the Editorial section. Each week the most popular questions will be answered by one of the creators of Neopets, so keep checking back to stay updated.
Red Nosed Raindorfs?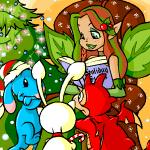 Well, Halloween is over and that means has Bruces are testing their ice skating skills, and Usuls are gathering fruit. Christmas is closer then you think. Neopet Owners are cleaning out their closets and the decorations will be up in just a few weeks. So, that means Santa will be awaiting those cookies and milk... more>>
Want a Summer Vaccination?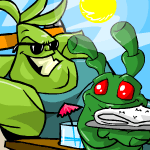 Calm down, there's enough Sloth for everyone. I usually don't believe in trequels but I believe it is my duty to please the fans. So little time, so many questions. I have been in sun drenched Mystery Island for a 2 week holiday so I couldn't manage to reply to the hundreds of Neomails stacked up in Plushieowner's inbox. Cut me some slack, though! ... more>>
Shop Talk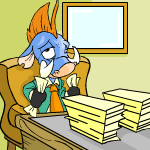 Neopoints; the ultimate currency of the game of Neopets. We simply cannot live without it, yet it's ever changing, always elusive, and above all, it is the main driving force of the Neopian economy. A good businessman and businesswoman will always have a basic knowledge of the economy, and that's no different in Neopets... more>>
Other Stories
"Ever Faithful" by shura_dono - Azrel was startled from her sleep by the sounds of crashing trees and terrified screeching. Being only a week old and barely able to fly, the frightened little cloud Pteri began to cry for her mother... more>>


"Ghost Hunt" by megaalex231 - "Kyle, you've really done it this time," a blue Lupe muttered to himself as he hung on a root high in the cliffs of Mystery Island. One wrong move and he'd fall into the ocean below... more>>


"The Ugly Maraquan Krawk" by jupiterdenryu - Although the Maraquans are usually seen as freaks by the rest of the world, it doesn't seem to bother them, for they in turn see the freaks among their own... more>>


Sand Trap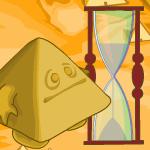 This week's issue is brought to you by: Sutek's Tomb

Submit your stories, articles, and comics using the new submission form.