Your questions answered!
Read the answers to the most commonly asked Neopets questions this week in the Editorial section. Each week the most popular questions will be answered by one of the creators of Neopets, so keep checking back to stay updated.
Should Be Holidays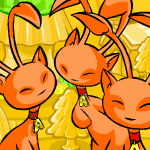 Recently Neopets celebrated the Annual Chocolate Ball. I don't know about you, but I rented a white chocolate tuxedo for the occasion and then sat by my Neomail box all day waiting for an invitation. For some reason I never got one. Of course, this isn't the first Neopian holiday I managed to miss... more>>
Golden Opportunity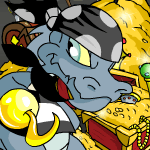 Looking around the Neopets site I see a lot games that involve gambling. Now while some people may shake their heads and avoid these games all together because of the gambling aspect, I'd like to say that they're not bad so long as you know when to stop gambling. Believe me, knowing when to stop is the hardest part of all!... more>>
This week's top stories include the latest Defenders of Neopia challenge, a trio of super-rare stamp releases, and the opening of two new shops on Kiko Lake. Read all about it here.
The Guilded Age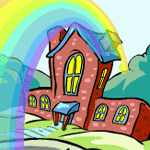 What exactly is a guild? It's nothing more than a community of Neopians who have similar and sometimes scary interests. There are thousands of guilds out there based on a variety of topics. There are fan guilds, pet guilds, Faerie guilds, silly guilds and even dung guilds (I did mention scary above right?)... more>>
Other Stories
"An Ixi's Wish" by squinkygyrl - As the three were sitting down to dinner, a slight creak came from the other room. Squinkygyrl looked over her shoulder to see what it was, and there sneaking in through the door was a very tired looking Trixie526neo... more>>


"The Magical Hat" by arden_starr - He knew everyone would expect him to fly in the race -- he was an Eyrie wasn't he? But no, he couldn't. He would do anything to be able to fly in the race; but he just couldn't fly... more>>


"Forever Miyuko: The Magical Tome" by unique377 - Just when Miyuko was about to close her eyes and savour the tranquil serenity, there was a loud plop and drops of water clung onto Miyuko's fur like glittering diamonds... more>>


Last Resort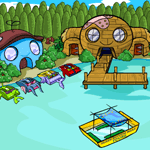 This week's issue is brought to you by: Kiko Lake

Submit your stories, articles, and comics using the new submission form.