Editorial
In a few previous editorial questions, you have said that Dr_Death is kind. If he is kind, then why is his name Dr_Death? - SarahLizzie91
Maybe he just had REALLY mean parents :)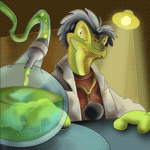 Where do you get Usukicon goodie bags from 'cause I didn't get one? - Angeline_021
They were on sale in the Toy Shop. You may still be able to get hold of one in another players shop though.
Why haven't you updated the Lenny on "Defender Trainer" yet? Have you even finished all the Lennys yet?
We haven't yet, but we are almost there :)
Why is he MongMong now called the Flishy? - Felix915
MongMong was just an awfully silly name.

"Eeeep! Miamice have a bold new look too! I wonder why all these petpets are being redrawn??? " That was in the news on august 21st... maybe a little clue into whats going on?
Hehe... do you want us to tell you EVERYTHING now?
Will the neopets school ever come out? I've been waiting and waiting and waiting and it still isn't out!!!
We are going to seriously 100% go for launching it this Wednesday. There I said it... Now we just have to make it work... *crosses fingers*
Can you make Cyodrakes paintible ghost with the Ghost Petpet Paint Brush please? :)
I'll see what I can do...
What was the first petpet you could get on Neopets? - Wild_tabby_cat
It was an Angelpuss, closely followed by Warfs, Buzzers and Snorkles.




Can you make some pirate fun images please. I would like to put some on my website and in my shop.
Yarr!
I really like the new makeover of the Angelpuss. How come my Kacheek's Angelpuss doesn't have the new look yet?
I am afraid to get the new look you will have to remove it from your pet and then add it again which means you lose all those valuable Petpet Protection League days :(
Thank you so much for Usukicon this year. It was really cool. I do have a question. Why do the Usuki Uni Lover Set and the Usuki Western Set look the same?
Glad you liked it, we tried :) About the sets, hmmm... I thought that was fixed a long time ago. I will find out what is happening there.
I gave an answer for last weeks Lenny Conundrum and I got it right, according to the 'View the past contests' thingy. But I never got a prize or trophy. Why?
You have to be one of the first 250 people that sunmitted the correct answer to get the trophy.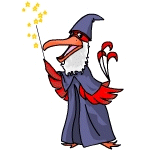 You said that all of the posters can be put in the neohome.. Then why can't I put in my Moehawks poster!! Will you be updating it soon!?!? Pleeeaaase? *makes puppyblew eyes* - Bigpig105
Oopsy, my bad! It should be fixed now.
I look at you poll every now and then, and I always get the question: If Usukicon was real, would you go? What is Usukicon? - Aishafairy123
What is Usukicon? Did you not look at the new page this week? Usukicon is the annual Usuki doll convention :)
---
Need more help?
If you have a question that you think should be answered, click here and you can use our * New * submission form. The most common/bizarre questions will appear here next week.