Your questions answered!
Read the answers to the most commonly asked Neopets questions this week in the Editorial section. Each week the most popular questions will be answered by one of the creators of Neopets, so keep checking back to stay updated.
Ay, There's the Rubbish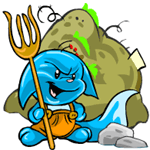 As everyone knows, the new release of the Rubbish Dump has been a hit. All sorts of people are tossing out their disgusting and unused items here. And some people recover treasures. Unlike the Money Tree, local people (King Skarl, The Meridell Castle Cleaners, Farmers, etc.) dump their disused trash here, too... more>>
Taking Stock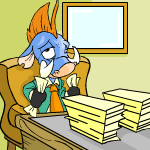 Many articles have been written about stocks - What they are, the benefit of investing, how to make wise decisions... but one question keeps coming up: Is there a selling strategy to follow?? Not being a common question that is actually asked on chat boards and editorials, this has not commonly been answered... more>>
Headlines this week include Brucey B Slots, Peophin Day, and the arrival of Ol' Plumbeard in the Battledome. Read all about it here.
Stamp of Approval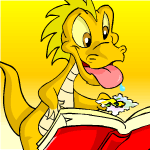 Having problems getting those few (or not-so-few) rare stamps needed to complete your collection? Just can't find someone selling that Petpets Stamp? Not enough money for a Tombola Stamp? This feature helps you in not only finding that rare stamp, but gives vital strategies to gaining that rare stamp... more>>
Other Stories
"Thanks For Everything" by laurensama - Ceritel was perfectly content upon that hill with her owner. She had everything a Blumaroo could possibly want, maybe even more... more>>


"My Guardian Angel" by kit_sune - "Tsuai, it's your time. Zafaras don't get to live forever you know." The many Kougras around me snickered and laughed. Their leader was a gold Kougra... more>>


"Never Poke a Healthy Quiggle in the Eye" by sweetviolet86 - The Gelert eyed the apple then the hungry petpet. "Spiceymeat, come on, give the apple to me. I'm your owner! See? Be a good boy and just hand it... more>>


Lots of Slots!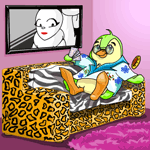 This week's issue is brought to you by: Brucey B Slots

Submit your stories, articles, and comics using the new submission form.