Hello and thank you for joining us as we present this week's edition of The Neopian News Brief, your one-stop guide to everything that's been happening in the world of Neopia, from the swashbuckling shores of Krawk Island to the billowy backdrops of Faerieland. We've got some excellent topics to cover this week, so let's get right to it.

Our lead item today is the rather unexpected decision to turn this past Tuesday into an unofficial "Rainbow Day" of sorts. Throughout the first day of Swimming, a wide variety of rainbow-themed items made their debut in Neopia. It all began with a trio of petpets (Boweens, Harris, and Alkenores) that became available in the rainbow style for the first time.

Not to be outdone, Buzz and Kyrii also got a chance to premier rainbow PB looks of their own, right along with the recently made-over Cybunny. That was followed by a quartet of rainbow-coloured Faerie books, which included an informative tome about the mysterious Rainbow Fountain. Rounding out Rainbow Day was a handsome arrangement from the Furniture Shop; what better way to decorate your home than with a beautiful rainbow sofa, table or rug?

Speaking of handsome interior decoration, the Furniture Shop certainly had a week that they can be proud of. In addition to the aforementioned selection of rainbow furniture, they followed up last week's selection of Nova furnishings with an even more impressive collection of Ultranova items, which included an offering of tables, sofas, rugs and lamps in the Ultranova style.

However, they really outdid themselves on Wednesday, as the Furniture Shop's aisles were lined with a quartet of comfortable new cots. If you happen to have a baby pet, then one of these cots is a must for your NeoHome. Available in four stunning styles (pastel, rubber ducky, brightly coloured, and the super-comfortable luxury cloud model), these cots possess rarities between eighty and ninety, so expect to pay a hefty price. However, if you keep an eye on the secondary market, the prices should decline in the weeks to come as supplies become more available.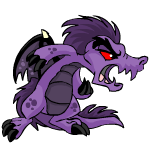 Having already brought you up-to-date on the current state of all things rainbow, we'd be remiss to not mention the latest happenings from over at the Rainbow Pool. The week got off to a nice start on Monday, when pink Blumaroos were added. However, the week's major coup was Wednesday's release of the impressive Darigan Krawk. Lest we forget, the Petpet Puddle also got in on the action, as four new Meowclops varieties were also released (cloud, spotted, plushie and, yes, rainbow).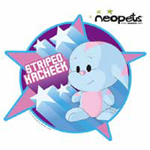 On the merchandising front, this was quite a weekend for Kacheek lovers of all stripes. You see, this Saturday not only marked the release of striped Kacheek shirts at the 99Dogs store, but it also brought about the debut of striped Kacheek plushies at Limited Too. Considering the multitudinous (is that even a word?) legions of Kacheek owners out there (after all, they are Neopia's second-most popular pet), we're sure that it won't take long for these little ones to go flying off the shelves, so if you've got designs on picking one up, it might be a good idea to call ahead to see if your local store has any, then hustle out to snap one up if they do.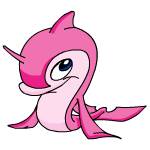 As Thursday rolled around, all of Neopia stopped to take some time and celebrate those refugees from the bottom of the sea that we lovingly call Flotsams. With the arrival of their special day, these seafaring survivors received a substantial bounty, beginning with the usual array of books, Battledome accessories, and food items. Also included were a pair of paint brush styles (checkered and pink), and appearances in the Caption and Poetry Contests. Way to go, Flotsams!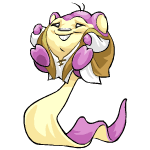 It's now time for us to take a closer look at today's top financial headlines. Having followed up last week's fifty-six point gain with an impressive sixty-nine point climb, it seems that the economy has now entered the throes of a full-fledged recovery. Leading the way during this latest resurgence has been Fish Pops!, which tacked on another nine points to close out the week at 117, more than fifty points higher than the #2 company on the Big Board, those red-hot newcomers at Meri Acre Sausages. Despite playing second fiddle for now, Meri Acre actually outpaced the top dogs, picking up seventeen points of their own.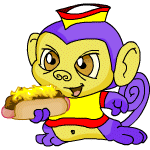 However, that wasn't enough to take top honours for the week; for that, we go to Hubert's Hot Dogs, whose shares rose a whopping twenty-four NPs. On the other hand, EEEEEURGH!!! Ltd. turned out to be the week's biggest losers, dropping a disturbing twenty points. It seems now that EEEEE were nothing more than One Week Wonders; starting out at eight points on June 13th, they skyrocketed thirty-nine points, but in the two weeks since have fallen nine and twenty points.

So then, with the Neodaq steadily rising, you would think that many of the big bargains would be long gone, right? Well, fear not! When you consider that 31 of Neopia's 45 companies are still at less than fifteen NPs, as long as the economy keeps on rolling, a lot of those companies should make for great deals when they get to the fifteen-point mark....