Hello and thank you for joining us as we present our latest edition of The Neopian News Brief, your one-stop summary of everything that's been happening in the world of Neopia. There's plenty to discuss this week, so let's go ahead and get underway...

As anyone who read last week's Editorial could've told you, it was announced in issue 77 that "something special" was about to be done with all those bottles of sand that were clogging up everybody's Safety Deposit Boxes. Well, don't say you weren't warned; on Friday, there was quite a storm created by the release of... sand sculptures!

As news spread about the six new sculptures that could be made by taking your bottles of sand to the Cooking Pot, the price of bottled sand skyrocketed, earning a fortune for those with the foresight to stock up. Those very same bottles of sand that could hardly be given away last week are now pulling upwards of 50 NPs each. Hmm, now if they could just figure out a use for all those piles of dung from Pick Your Own...

Speaking of the Cooking Pot, a great deal of excitement surrounded Thursday's unveiling of the all-new, ultra-über hard-to-find nibbled cooking pot stamp. With a rarity of ninety-nine, you've got about as much chance of finding one of these as you do of getting Kauvara to tell you the secret spot on Roo Island where she gets those arbiter berries... good luck, buddy!

But that wasn't the only reason to head to the Post Office Kiosk this week. With the premiere of three new Haunted Woods stamps, it's easy to see why all of Neopia's going postal! Now available are stamps featuring a spooky gravestone and moonlit depictions of a Werelupe and The Esophagor. Here's the way I see it; after all those times that he made you spend thousands of points on expensive food items, isn't it about time that you gave The Esophagor a lickin'?!?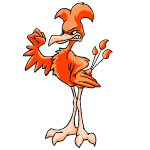 This past Wednesday, Neopia *cough* celebrated the arrival of Lenny Day. Okay, okay... rather than making a bunch of cracks about the fact that nobody likes them (even though Lennies are Neopia's least popular unlimited pet), I think it's important to remain positive. After all, Lennies are well-known for their vast magical talents (yeah, right... if Lennies are so good at magic, then why can't those Lennies in the pound "magically" pull a new owner out of their hat?).*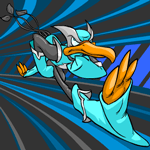 Seriously folks, this year's arrival of Lenny Day was met with a staggering array of new goodies, including some great new Lenny Battledome weapons (there's an oxymoron!) and three more Lenny books (Bah! The Book Shop got stuck with so many copies of Lenny Magic, Fyora ended up using them to insulate her attic). Lennies also received a new paint brush style (orange), three new NeoGreetings, and were featured in this week's Poetry Contest, Gallery Spotlight, and had a special show in the Art Gallery. Yay, Lennies! No, really... ;)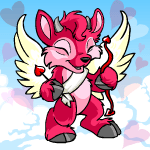 Later in the week, on Friday, most Neopians managed to pull themselves away from Toy Shop just long enough to commemorate Valentine's Day by firing off a few greetings. Throughout the land, messages of lurve were dispersed en masse, and tokens of affection were passed out (thanks again for the candy peas!). To mark the occasion, the Chocolate Factory unveiled a whole host of tasty new treats, including delicious love shake chocolates and strawberry heartcicles. And hey, for those romantics on a budget, you should be able to pick up a new heart shaped sand sculpture for around 100 NP!
On the merchandising front, by the time you read this, shadow Aishas should be out and about in Limited Too stores throughout the US. Given the fact that there will only be an average of ten shadow Aishas per store, if you don't have yours yet, then you'd better hustle if you plan on getting one. In conjunction with this release, 99dogs.com has put together a limited run of shadow Aisha t-shirts.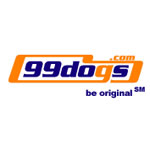 From now on, each limited edition plushie release will be accompanied by t-shirt release by 99dogs (they still have some cloud and disco Aisha shirts, but they probably wont last long!). Another new feature at the 99dogs store is the new "Design Your Own" shirt option, which allows you to make a shirt featuring a.) every pet species, in almost every paint brush style, and b.) nine different worlds as your background (in my humble and totally unsolicited opinion, the Faerieland background is the coolest).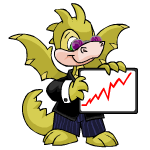 Now, it's time to take a closer look at today's financial headlines. After an impressive three week rally, which took the Neodaq back over the thousand point mark for the first time this year, many analysts thought it could be just the beginning for one of the all-time great bull markets. However, it was not to be, as the economy came to a grinding halt. The Neodaq tumbled an unbelievable 138 points, the biggest single-week decline since October of last year, when the Big Board took a whopping 167 point loss. Leading the way among the losers was Faerie Clothing Ltd., which followed last week's fifty-six point gain with a staggering fifty-point-loss... talk about "easy come, easy go"!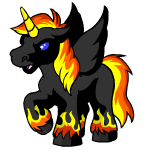 Not to be outdone, other heavy hitters like The Neopian Auction House (which declined thirty-two-points) and Peophin Water Parks (who fell a dozen points) also fell victim to the market's suddenly bearish tone. Amazingly enough, one of the week's big winners was Unis Beauty Salon, which rebounded from last week's disappointing thirteen point loss by posting a ten point gain and closing out the week just shy of the fifty-point-mark. So then, what is an investor to make of this sudden skid? Could this be, as some claim, just a momentary correction in the market, or have hard times returned for good? We'll just have to wait and see....
---
*Alright now, before anybody gets all excited and sends in a bunch of hate mail... relax, it was just a joke. I'm proud to say, as one of the 300,000 Neopians who actually own a Lenny, that I love my little Gareth, and I would NEVER put him in the pound (even though he IS a total dork!) Now the Lab Ray, on the other hand, well... ;)