Hello and welcome to our latest edition of The Neopian News Brief, your weekly wrap-up of everything that's been going on from the sandy shores of Krawk Island to the cozy clouds of Faerieland. There are quite a few stories to go over, so let's go ahead and get started...

Our lead story this week is the addition of some cool new furniture for your NeoHome. On Monday, a quartet of speakers made their debut. Now, you can help to set the tone of a very special room in your NeoHome with one of these great new speaker varieties.

Play it cool with an icy speaker, or kick up a little sand with a speaker from the Lost Desert. Better still, you can rejoice in the inspirational sounds of a cloud print speaker, or get your groove on with a funky green speaker. Whichever one you select, it's sure to pump up the interior decoration of your NeoHome.

If that's not enough, Thursday saw the unveiling of a new line of toilets. That's right, now you can customise your NeoHome by picking out one of four different porcelain potties. Just swing over to the Furniture Shop and select either a cloud, disco, fancy or spooky toilet (heh, that last one reminds me--I really need to straighten up around the house this weekend).

Right now, the price of toilets is astronomical (honestly, how much would you pay to avoid going in the bushes?), but given their relatively modest rarity, it would seem to me that the arrival of indoor plumbing will be well within the grasp of most Neopians' budgets before too long.

Now that you've sorted out the inside of your NeoHome, it's time to head outdoors and spruce up the garden. Really, is there any better way to put some flair into your yard than with a brand new garden gnome? Of course not! That's why you're gonna run, not walk, to the Garden Shop and snap one of these up... right?

Okay, aggressive sales pitch aside, there are four new garden gnomes that hit the shelves of the Garden Shop on Tuesday. Why not give your garden a boost by adding a yellow Chomby, purple Zafara, blue Draik, or green Kau gnome?

Week in and week out, the Toy Shop has consistently been able to come up with new ways of capturing the attention of eager shoppers. Building on the momentum of their incredible sales numbers from last weekend, two more exciting additions were unleashed on Wednesday, furthering the Toy Shop's reputation for keeping Neopians in a perpetual buying frenzy.

First up were a pair of new snow globes, this time featuring Jhudora the Dark Faerie and Illusen the Earth Faerie. Each globe comes with a very special feature; Jhudora's globe, when turned upside down, has her cackling in a cloud of green smoke, while Illusen's globe comes with miniature leaves that fall when it's shaken.

Not to be outdone, Wednesday also saw the unveiling of a second wave of baby plushies. After the great hullabaloo that followed last week's initial release, a tremendous fervour surrounding Wednesday's presentation of plush baby Grundos, Skeiths, and Zafaras was hardly a surprise to anyone. Okay, so their rarity puts them out of most everyone's price range, and their current cost can only be described as outrageous, but really... how can you resist?!?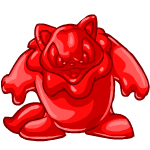 The time has now come for our weekly incursion into the phenomena that is Neopia's obsession with jelly. First up, in a move that is sure to make Tyrannians bubble over with jealousy, Jelly World shocked everyone on Monday with the debut of their new Giant Jelly, where Neopians can go once a day to pick up a free jelly treat. Then, along with the fantabulous release of some supercool cherry jelly weapons, Friday also saw the addition of four new flavours to those available at the Giant Jelly. From now on, they'll be giving out cornupepper, poisonous, glowing and, erm... dung jellies. Fantastic, eh?

Oh, we almost forgot. A certain Tyrannian military mastermind has asked us to remind everyone that you can only feed your pet twice with a single jelly, whereas an omelette is good for three feedings. There, are you happy now? Sheesh... ya put a guy in charge of an omelette, and it totally goes to his head!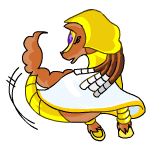 As the week progressed, there were a whole host of new paint brush styles that arrived to insure that the Rainbow Pool remained busy. Monday marked the premiere of island Koi and rainbow Lupes, while Tuesday featured the unveiling of electric Kougras and the long-awaited white Techo (as promised in last week's Editorial). Wednesday gave us desert Peophins and two new JubJub styles (pink and rainbow), and Thursday produced strawberry Poogles. Last but not least, Friday brought the arrival of shadow Lupes.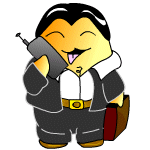 Now let's examine today's headlines from the world of finance. After last week's relatively mild two point loss, it appeared as though the economy was ready to take a turn for the better. Well, that turned out to be the case, as the Neodaq posted an encouraging seven point gain. Now that the Big Board has been able to get back on track, many analysts are anticipating a steep rise in share prices, so this could be an ideal time to jump in and grab yourself a real bargain.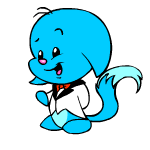 We closed last week with a mention of two companies who could pose a possible threat to The Neopian Auction House's supremacy in the near future. One of those companies was Peophin Water Parks, which not only put up their four consecutive gain, but also turned out to be the week's most profitable company, climbing thirty-two points, from fifty-nine to ninety-one points. The other company that we mentioned last week, Mynci Imports, wasn't nearly as lucky. They ended up being the week's biggest loser, falling an incredible twenty-two points, all the way back to thirty-two NPs a share.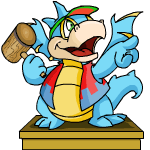 And what of Neopia's most valuable company, you ask? Well, The Neopian Auction House certainly came away in much better shape than Mynci Imports, tacking on five more points a share to close out the week at 252. However, the nine and five point gains of the past two weeks are certainly a far cry from the massive vaults of TNAH's heyday. As their profits slow to a trickle, many analysts have begun to predict that TNAH just might be ripe for the picking. I suppose we'll just have to wait and see....