Hello and thank you for joining us as we present this latest installment of The Neopian News Brief, your weekly source for all the stories making news from the world of Neopia. We've got plenty to go over this week, so let's not delay...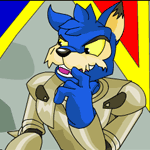 Our lead item this week, once again, is the continuing story of the "Champions of Meridell." When we last left our heroes, they'd put away a trio of winged demons, and appeared headed for a meeting with King Skarl. As the seventh chapter begins, the Draik guards introduce the king to Lisha and her friends, who then explain how they got there. As incredible as their tale seems, Jeran lends credibility to their story by recounting his own mysterious arrival in Meridell. As this latest installment comes to a close, King Skarl invites our heroes to join them in their fight against the mighty foe he suspects to be responsible for this conflict. Just who could this mysterious foe be? I guess we'll just have to wait and see...

Another story creating a splash this week has been the debut of four new jelly items. Now, you can sample from this quartet of quirky delights by visiting the Food Shop, which made these curious desserts available for the first time on Monday.

Got a hankering for some hot lime jelly? Do you long for a heaping helping of Lemberry Chia Jelly? Then make your way to the Food Shop and pick up one of these tasty treats today!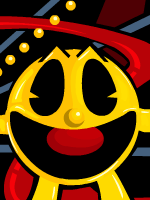 A great deal of excitement was generated on Wednesday by the arrival of our latest sponsor game, PacManFever - Trading Card Hunt. Admittedly, when reading the directions it seemed like this game would be another version of Usuki Frenzy, but once you actually start going through the rooms, it becomes obvious that Trading Card Hunt is unlike anything that's ever been seen on the site before. Thanks largely to a cool first-person approach, the game's quickly developing a strong following of loyal players. Check it out!

On Friday, Neopians witnessed the titanic unleashing of the latest and greatest innovation in cutting-edge Battledome weaponry. That's right, we could only be speaking of... battle ducks! Now, you too can commence to whuppin' your foes with impunity, thanks to the spectre of destruction and pestilence that is... battle ducks! Available in three styles (regular, dark, and icy), these whirlwinds of woe can be found upon the shelves of the Battle Magic shop. Battle ducks! Get them... before they get YOU!!!

Once you've withstood the staggering awesomeness of battle ducks, be sure to visit the Toy Shop, where the long-awaited second series of Faerie snowglobes have gone on sale. No self-respecting Faerie collector worth their dog-eared copy of My First Faerie would be caught without all three of these stunning collectables.
This assortment includes globes featuring the Earth, Snow, and Light Faeries, and they're all sure to fetch a tidy sum on the open market, so if you happen to spot them in the Toy Shop, by all means, pick one up...

On Friday, another trio of Neopia Central stamps made their way to the Post Office Kiosk. This latest batch include tributes to Kauvara, The Rainbow Pool, and the Shop Wizard. Collectors, take note: these three have rarities between eighty and ninety, making them slightly harded to find than the ones released last week (whose rarities were between sixty and seventy). Good luck in your efforts to track them down!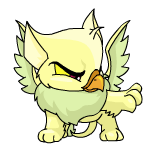 This past Thursday marked the commemoration of Eyrie Day. Throughout the tenth day of Collecting, pets everywhere took part in celebrating that special time when we honour Neopia's eighth most popular species. Along with the usual assortment of Battledome goodies, books and baked treats, Eyries also received two new paint brush styles (baby and spotted). Additionally, Eyries were featured in this week's Poetry, Caption, and Site Spotlight contests, as well as a special two-page edition in the Art Gallery. Yay, Eyries!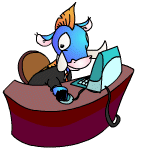 Now, it's time to check the stories that are making headlines from the world of finance. After last week's surprising seventy-three point tumble, many analysts had predicted that the economy would shake off the loss as a "minor correction" and resume the prosperity that it had enjoyed during previous weeks. However, it was not to be, as the Neodaq sunk even further, falling another 103 points, all the way down to 837.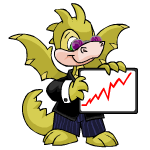 After weeks of total domination, the bubble has finally burst for The Neopian Auction House, as they led this week's losses with an incredible seventy-one point plummet. Now resting at 131 NPs a share, TNAH remains twice as valuable as their nearest competitors, Kacheek and Sons. While some believe this is a cyclical decline, that'll surely be wiped out when TNAH eventually roars back, there are others who aren't so sure. Additionally, when you consider that one has to put 131 NP on the line for each share, it would certainly seem like way too big a risk for all but the biggest investors. But I'm sure you've all heard the old saying, "It takes NP, to make NP..."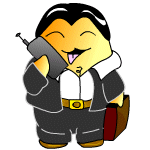 Among the handful of companies that actually managed to turn a profit this week, the aforementioned Kacheek and Sons lead the way with a nineteen point gain. After back-to-back losses of thirty-one and twenty-three points, KSON has bounced back with a nineteen point gain, proclaiming that reports of their demise had been slightly premature. Now standing at fifty-eight NPs a share, could Kacheek and Sons continue to build on this rally, or will they falter yet again?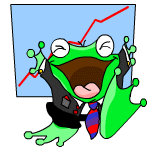 In "when it rains, it pours" news, this recent bear market has brought up another disturbing trend; a whopping nine companies fell below the dreaded fifteen NP mark, bringing the total number of companies in limbo all the way up to twenty-eight out of forty-six. On the other hand, three companies (Faerie Clothing Ltd., Neggwork Commerce, and Stuff-A-Pet) actually managed to climb back above 15 NPs.
So then, with a bear market in full effect, will the economy continue its downward spiral, or is now an optimum time to pick up a few bargains? Only time will tell....