Hello and thank you for joining us as we present this week's installment of The Neopian News Brief, your all-in-one source for all the latest stories making news from the world of Neopia. There's quite a bit to cover this week, so let's get to it!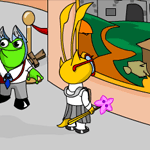 Our lead item is the continuing adventure of Lisha the Aisha and her friends in the "Champions of Meridell" plot. On Monday, it was revealed that Lisha's brother Jeran, who disappeared five years ago during a game of Hide and Seek, bore a strong resemblence Sir Borodere, the Lupe who appeared in the painting at the museum. Then on Tuesday, as Lisha and her friends searched for the spot where Jeran had been lost, they accidentally ended up arriving in Meridell, revealing the long-lost medieval land that everyone's been buzzing about.

One popular pasttime in Meridell happens to be a stellar new game called Kiss the Mortog. Granted, laying a big, sloppy kiss on a Mortog might not be your idea of fun, but if you've got a knack for picking the right one, then vast fortunes may await you.
As the game progesses, the odds of getting splattered continue growing, so be careful when you make your choice. Get smoochin'!

With the unveiling of Meridell, two new shops opened this week: Merifoods and Ye Olde Petpets. After a long hard day of cheeserolling and potato counting, there's nothing like sitting down to a hearty bowl of gruel with a side of potatoes and gravy! For you discerning diners, Merifoods even has gourmet treats like roast pork, bread wreaths, and fresh fruit goblets.

Once you've eaten your fill, you can stroll down to Ye Olde Petpets and find a new friend. Choose from a wide variety of Symols, Vullards, and Crokabeks and get yours now! As for those of you who already own a Petpet, you might be interested to know that a trio of Petpets have received new paint brush styles this week.

On Monday, Primellas became available in pretty new colours such as red, yellow and green. On Tuesday, Khonsus received some new styles of their own, including cloud and spotted. Then, on Thursday, NeoTraks became available in three new designs (blue, black and cloud).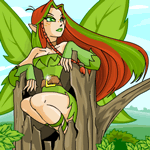 Are you tired of poisonous lollypops and caustic potions? Then swing over to Meridell and check out Illusen's Glade. Illusen the Earth Faerie is in dire need of some items, and it's up to you to retreive them. Prove your mettle and advance to bigger and better things, but fail in your efforts and be relegated to the scrapheap of easy quests... so hustle!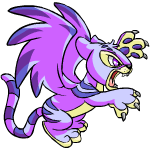 Speaking of hurrying out to get something, a handful of Faerie Kougra plushies were accidentally released last weekend, creating quite a stir among those who'd shown up at Limited Too looking for Cloud Aishas. On Thursday, to the delight of Kougra fans, it was announced that not only would Faerie Kougras be available in all LTD2 stores, but that they would also NOT be a limited release, meaning that there'd be plenty of Faerie Kougras for everyone... hurray!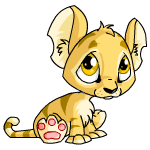 It's truly been a huge week for Kougra fans; along with the release of Faerie Kougra plushies, Kougras were also one of two new species to become the latest recipients of the baby paint brush! On Tuesday, adorable little baby Kougras were introduced, while baby Buzz made their debuts on Friday.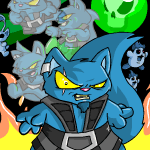 An exciting new game called MAGAX: Destroyer arrived on Thursday the first, getting the month of Hiding off to quite a start. In this game, you play as MAGAX, a brooding antihero with a score to settle against that paragon of evil, Hubrid Nox. Blast Hubrid's army of ghosts with a powerful energy bolt, and exact your revenge against the mighty Chia warlord...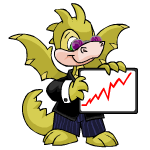 Now it's time to take a look at this week's financial headlines. For the third straight week, the Neodaq continued to plunge, adding a twenty-seven point dip to the previous weeks' declines of 119 and 146 points. As trading began on Friday, the index had fallen below the eight-hundred point mark for the first time in nearly two months.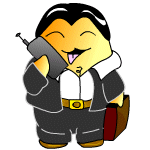 Leading the way among this week's losers was, once again, BOOM! Boom Boxes, whose shares took a disturbing stagger for the second straight week. With BOOM! tacking a thirty point loss onto last week's disastrous sixty-seven point decline, many have begun to openly question the financial titan's seeming invincibility. With their stock currently valued at 122 NPs a share, some analysts feel like now's the time to get in cheaply before BOOM! takes another run at the two-hundred point-per-share mark. However, there are others who think that this latest stumble might just be the tip of the iceberg...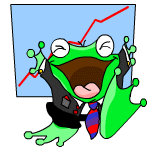 Despite a general downturn in the market, there have still been a handful of companies who've turned a sizeable profit. Leading those who've managed to defy the odds is the Unis Beauty Salon, whose shares more than doubled in value, skyrocketing from twenty-seven points a share all the way up to an impressive sixty-five. Also stunning the experts with an unexpected rally was Buzz-A-Way Insect Removal, which not only climbed eleven points to reach twenty NPs a share, but also vaulted right past the dreaded 15 NP mark.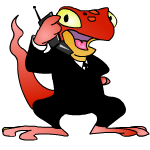 BUZZ was just one of four companies that managed to resume trading after rising past 15 NPs a share. However, there were six companies that fell BELOW fifteen NPs, bringing the total number of inactive companies to a very disturbing thirty-one out of forty-six. So then, as the economy continues to languish, will more and more companies be rendered inactive? Even worse, could some of them fall all the way into bankrupcy? Or is this recent downturn merely a bargainhunter's paradise? After all, the motto is, "Buy low, sell high," and this is about as low as it gets....