Hello and welcome aboard for the latest edition of The Neopian News Brief. A lot has happened during the past few days, so let's not waste any time!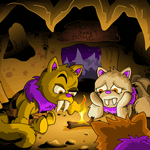 Our lead story this week is the arrival of Neopia's newest rockin' sensations, heavy metal maniacs Wock Til You Drop, who began their worldwide tour with a gig at the Tyrannian Town Hall. The band was pumped about playing before a packed house, delivering an earsplitting barrage of righteous tunes that wowed critics and fans alike. In fact, due to the overwhelming demand created by Wock Til You Drop's stunning performance, on Thursday it was announced that the number of tickets for each show would be raised substantially. Keep an eye on the Concert Hall to find out the next time that those wild and crazy Wockys come to town!

Another big story has been the sudden influx of new colours at the Petpet Puddle. It all began on Monday, when Gruslens became available in such styles as black, spotted and cloud. Tuesday saw the debut of four new Cobrall colours, including robot and white. On Friday, it was revealed that Cirruses would also be capable of being changed into colours such as red and green. Now, there's little excuse for not getting your Petpets painted!

Also enjoying some time in the spotlight was the celebration of Kau Day. On Wednesday, Neopia was overrun by a stampede of Kau-related treats, books, and Battledome moves. There were also a trio of cool Kau-themed NeoGreetings, and two new paint brushes (starry and robot) that are sure to have your Kau looking moo-tiful!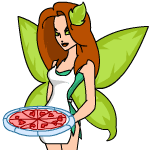 If you happen to visit Faerieland over the weekend, you might want to drop by the Faerie Food Shop, which has just stocked their shelves with a whole new array of delicious delights. Among the latest additions to their batch of tasty treats are fruit Faerie lollies, Faerie pastries and the mouthwatering Faerie fondant, which is a gooey combination of chocolate, biscuits, and fondant filling. Yum!!!

Speaking of Faerieland, another notable addition to the city in the sky is the Book Shop's recent debut of five new titles. Uncover the truth behind the Rainbow Pool, or learn some of the Faeries' magical spells... it's all waiting for you in the aisles of your Faerieland Book Shop!

Another news item that has created quite a stir around Neopia is Thursday's unveiling of the Scorchio transmogrification potion. Now, your sweet little Scorchio darling can be turned into a hideously deformed mutant... that is, if you're into that sort of thing.

Okay, so you've spent thousands sprucing up your NeoGarden; how about turning your attention to a little interior decoration? Well you're in luck, because the Tyrannian furniture store has just unveiled their latest line of home furnishings.

What room couldn't use a beautiful set of giant leaf curtains, or a luxurious stone armchair? Considering the going rate for most furniture, once these new items have been out for a few weeks, they should become great bargains...

Neopian shoppers should also take note of the fact that the Lost Desert Battle Shop has added another line of weapons to their shelves. Now, you too can add mighty weapons such as the pottery shard dagger and scarab stone slingshot to your arsenal.

Our personal favourite, however, has to be the super sand grain; not to be outdone by the smugglers and their attack peas, the inhabitants of the Lost Desert have come up with a miniscule secret weapon of their own. Teach your opponents a lesson, by showing that, sometimes, big things really do come in small packages.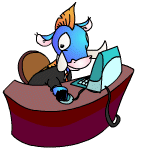 The time has come to take a look at this week's financial headlines. As many analysts predicted, the sudden slowdown that began with last week's unimpressive twelve-point gain was followed by this week's sixteen point loss, the Neodaq's first weekly drop in more than a month. The biggest loser was the enigmatic EEEEEURGH!!! Ltd., whose shares dropped a staggering forty-six points. This sudden collapse is even more stunning, when you consider that the company had posted a profit for seven straight weeks, before falling from sixty-six all the way down to twenty NPs a share.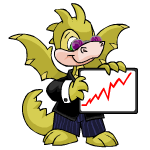 Another big loser was Skeith Bodyguards, who ran out of steam after posting back-to-back twenty-seven point gains, tumbling nineteen points and finishing the week at forty-eight NPs a share. However, there were a number of companies who managed to make significant gains for the week. Leading the way was the resilient BOOM! Boom Boxes, who bounced back from a catastrophic fifty-six point decline by jumping twenty-four points, ending up at 123 for the week.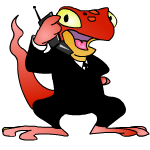 Also having a big week was Super Splime Shakes, whose value rose nine points, allowing them to break past the dreaded 15 NP mark. Super Splime was just one of three companies who've been able to resume trading. However, these gains were offset by the fact that there were six companies who fell below 15 NPs, bringing the total number of companies in limbo to a whopping twenty-eight (out of forty-six).
So then, are the collapses of Skeith Bodyguards and EEEEEURGH!!! symptoms of greater economic woe, or will they rebound and take their place among the economic elite, just as BOOM! Boom Boxes did this week? Only time will tell....