Hello and welcome to this week's edition of The Neopian News Brief, your one-stop summary of everything that's been happening in the world of Neopia, from the harrowing hinterland of the Haunted Woods to the daunting dunes of the Lost Desert. There's quite a bit for us to cover today, so let's not delay any further...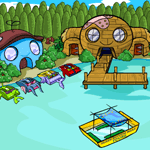 Our lead story this week is Tuesday's presentation of Kiko Lake, Neopia's second mini-world to be unveiled (after Roo Island). Situated to the northeast of Neopia Central, Kiko Lake is well known throughout Neopia as a popular vacation spot. Although we've all read about the beautiful village that rests below the surface, replete with coral architecture, seaweed gardens, and tourist shops, at this point, it all remains left up to the imagination. In the very near future, however, along with some belated updates to Roo Island, you can expect for things to really get hopping around Kiko Lake.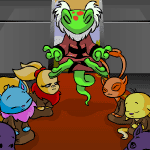 Also causing quite a stir has been a series of strange events taking place in Mystery Island. First up was the rather mysterious disappearance of the Tiki Tack Man (oh no, what will this do to the olive tin industry?!?). Next up was the disturbing news that the Techo Master had been abducted. The day after, there were signs of a great struggle between the master martial artist and his captors.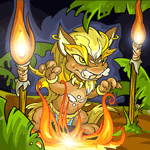 Their ability to take down the Techo Master would indicate that whoever is responsible for this terrible deed(s) certainly know what they're doing. On Wednesday it was the Island Mystic's turn to do his best invisible paint brush imitation, and no one's seen hide or hair of him since. Finishing the week off was a sudden (if not nearly as unexpected) disappearance by the Tiki Tour Guide. Hmm... wouldn't you think that, after the first few people started turning up missing, that everyone else would have the good sense to get out of town?!? Guess not...

Also, in a developing story that appears to have more than a coincidental relationship to these recent events, the volcano at the centre of Mystery Island has apparently begun releasing a stream of billowy, foul-smelling smoke clouds (have the locals discovered the joys of beany burpers, perhaps?).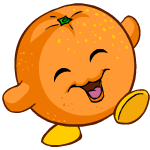 This past Wednesday, for no reason other than because we said so, it was decreed that the day would be used to celebrate all things orange. Getting us started was an orange blog, avatar, and Buddy Icon combo, which was swiftly followed by an assortment of orange goodies from the Toy Shop, whose ranks included orange plushies, bouncy balls and yoyos.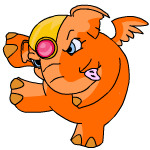 Next up was a trip to the Rainbow Pool, as orange Bruces, Blumaroos, Elephantes, and Chias were joined by Peos, Gulpers, Primellas, and Pfish as the latest purveyors of the trendy orange style. Rounding things out were a quartet of stuffed oranges from the Health Food Shop; choose from chocolate, burger, celery and, yes, orange stuffed oranges for your next meal. Mmm... orange you glad we had Orange Day? *groan*

As the second week of the Neopets TCG Tournament draws to an end, the time has come to take a look at how things have gone so far. Twelve contestants made it out of the first round, with Dragona's defeat of Orkboss and Pop Tart's win over Number Six standing as the two most surprising results. After one round, the big winner seemed to be the programming department, who fielded five of the twelve participants who advanced to the second round.

There were really no major upsets in the second round, as the programmers continued to dominate the field, landing three of the six slots in the quarterfinals. Now, with two of the three quarterfinal matches completed, it appears as though Dom Dread and Viola (both programmers, btw), will be joined in the semifinals by the winner between Pop Tart and Flash Gorton.

Now, you might be asking, who's going to get that fourth spot? Well, it depends... if the loser between Pop Tart and Flash Gorton gets swept, then it will be Mr. Insane (whose overall record of 5-3 would best that of Fuzzy X, whose cumulative total is 5 wins and 4 losses). However, if the Best of Five match between Pop Tart and Flash Gorton should go all five games, then they would both advance, and Mr. Insane would be out. Confusing enough for ya?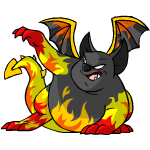 This past Friday, Neopia closed out the week by celebrating Skeith Day. In saluting those gregarious gluttons, many onhand noticed the distinct lack of Moehogs partaking in the festivities (we have it on good authority, however, that a number of Moehogs had "volunteered" to be involved with putting the celebration together... how generous of them!). Among the bounteous benefits bestowed upon Skeiths for their special day were: a Skeith avatar and blog set, a spate of Skeith treats from the Bakery, a quartet of Skeith books (including the "scintillating" Skeith Prints... no, seriously; it's a real page turner!), a trio of Skeith Battledome items (including the dreaded Skeith inferno spell), and three more paint brush styles (silver, ghost, and *ahem* invisible... okay, maybe two and a half new PB styles).
Skeiths were also featured in installments of the Caption and Poetry Contests, the Neoadventure and Site Spotlights, as well as the new and improved Art Gallery. However, the biggest news of Skeith Day turned out to be the unveiling of a makeover for the entire Skeith species. Wahoo, way to go, Skeiths!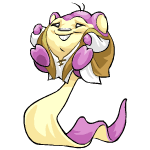 It's now time to take a closer look at this week's financial headlines. Defying all laws of probability (and, for that matter, gravity), the Neodaq continued to soar into the stratosphere. Leading the way, rather unsurprisingly, was the Number One company on the Big Board, Meri Acre Sausages. What was surprising, however, was the kind of performance that SSGS put up; surely, no one could have anticipated that a company that was already worth 161 NPs a share would slap up an incredible gain of 106 points.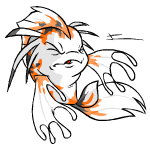 On the other hand, after a tremendous run that saw them close to within a single point of Meri Acre Sausages, the latest charge by Fish Pops! has finally popped, leading the losers with a twenty-nine point decline to close out the week at 133, which was still good enough for second place. Coming in at #3 is EEEEEURGH!!! Ltd., whose shares took a forty-five point leap, second best of the week. Rounding out the top five were Powlex and Jacko and Sons Painting, who closed trading at sixty-three and sixty-one NPs a share, respectively.
So then, as investors sit with such hefty returns in their portfolios, is now the time for you to get out, or do you have the nerve to reap the rewards of sticking it out another week? That's a question that every stock speculator has to answer for themselves...