Hello and thank you for joining us as we present this week's edition of The Neopian News Brief, your all-encompassing guide to everything that's been going on in the world of Neopia, from the wintery walkways of Happy Valley to the sandy shores of Mystery Island. There are plenty of topics for us to cover today, so let's get right to it!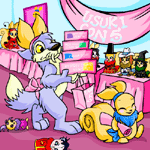 Our lead story today is this past Wednesday's celebration of Usukicon 5, the latest in a line of Neopian celebrations commemorating all things Usuki. Along with giving collectors the opportunity to gather and exhibit their beloved collections, Usukicon is also a major showcase for the very latest releases. This year's Usukicon did not disappoint, as there were all kinds of new Usuki goodies on display.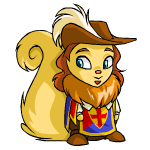 Among the big stories from this year's festivities: the unveiling of four new Usuki dolls (Usuki knight, musketeer, pirate wench and rogue), a quartet of playsets (Happy Valley, Mystery Island, Krawk Island, and Meri Acres), four supercool goodie bags, and a quintet of posters marking the fifth Usukicon (including one that features all of this year's new releases). However, THE big story of Usukicon 5 had to be the debut of the Usuki paint brush. Usul owners rejoiced upon learning that they could now turn their Usul into a life-sized musketeer or magical hair Usuki.

The rest of Neopia got into the act, as a number of Usuki-themed treats were given a release. Among the Usuki tie-ins sprung upon the masses were: a pair of Buddy Icons, Chat Avatars, and Desktop themes, a trio of Cooking Pot items, two new shopkeepers and an Usuki Blog. Usukis were also featured in this week's Gallery Spotlight, as well as the Poetry and Caption Contests. Totally awesome!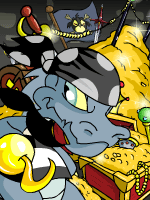 For the past few weeks, the game Brucey B Slots has proven to be wildly popular, racking up a couple million plays each day. So popular, in fact, that it's now spawned its own spin-off... Black Pawkeet Slots! The premise is nearly the same--however, there are a few big differences. The first is the possibility of "scatter" bonuses. Depending on the number of Pawkeets that show up in one spin, you can get bonuses up to fifty or two-hundred times your original bet. The best part of that, though, is that the Pawkeets don't have to be in any particular sort of sequence (that's why it's called a "scatter" bonus).

Another extra feature is the inclusion of a bonus round. If you get three or more treasure chests, you'll be taken to a page with twenty-four choices on it. Depending on where you click, you could win some NP or (once this function has been added) dubloons! However, since the game is still in Alpha testing, the max bet is currently capped at ten NP, and the option of winning dubloons is still to come. Regardless, though, the game's still pretty cool... and it's just gonna get better!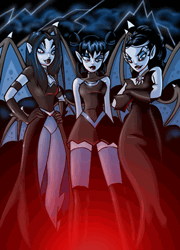 Three weeks ago, we got a sneak peek at cards of Illusen and Commander Garoo that are slated for inclusion in the upcoming Neopets Trading Card Game. At the time, it was estimated in New Features that the TCG's release was about six weeks away. This past Thursday, a preview of cards depicting Copier v2.0 and the Dark Faerie Sisters were unveiled (there are only two words to describe the Dark Faerie Sisters, and they both happen to be "hubba"). Along with this advance look at two more cards, we also got word that the game would be launching "very very soon." Then, on Friday, two more cards were shown off (featuring the Pant Devil and a mortifying Meowclops) and, at long last, a tentative launch date of September 19th was given. Hurray!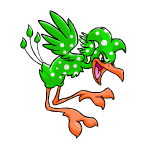 While there were some exciting new paint brush styles released this week, it seems that most of the spotlight was trained upon the wide array of ongoing makeovers. It all began on Monday, when not only were the purple, split and fire Poogles redrawn, but it was also revealed that the previous Poogles had been made considerably smaller and re-uploaded. This was followed on Tuesday by a quartet of new-look Lennies (speckled, orange, pink and purple), and a makeover for the green Grarrl.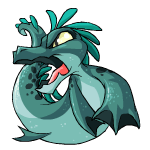 Pets weren't the only ones who got in on the action, though, as Petpets also jumped into the mix on Tuesday with a new pose for Gruslens on Tuesday and Miamice on Wednesday. The pet makeovers resumed on Thursday, as shadow Lennies were joined by brown and starry Poogles as the latest looks. Oh... did we mention that the Maraquan Krawk was also released? It just goes to show, just because there weren't many new brushes, doesn't mean that there weren't plenty of new looks.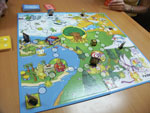 In case you're curious about the new Neopets board game, then you might want to check out a link on New Features to a little inter-office staff challenge that was conducted on Thursday afternoon. Six garrulous gamers sat down to a nice friendly competition, poised to obliterate their foes and snatch victory from the jaws of... not victory. As the action got underway, Donna (or, as we sometimes like to call her, "the subfounder") jumped out to an early advantage, due in large part to the acquisition of Sticky Hand and Fyora's Library cards, plus a miraculous victory by an underdog blue Poogle racer.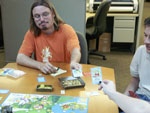 However, the deck giveth, and the deck taketh away... as such, the chances of "Her Royal Quesadillaness" landing a victory were dealt a harsh blow when she received a card depicting Jhudora's cursed ring. Seizing upon his opportunity, John stormed into a commanding lead that would not be relinquished, leaving a charred trail of opponents in the wake of his mighty pwnitude.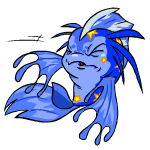 It's now time to take a closer look at today's financial headlines. After a stunning run that saw the Neodaq post a gain for eight straight weeks, the streak finally came to an end, as the Big Board put up an overall loss of twenty-two points. Despite the loss, the index managed to stay above the 1,000 point mark, closing out trading at 1011. In a curious development, the losers were lead by the once-mighty Fish Pops!, whose shares tumbled an unbelievable thirty-nine points, nearly doubling last weeks decline of twenty-one points. The losses have now left FISH below 100 for the first time in nearly two months.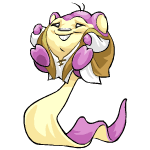 On the other hand, Meri Acre Sausages managed to rebound from last week's thirteen point decline and ride a sixteen point gain all the way to the #1 spot on the Big Board, finishing off Friday at 124 NPs a share. Coming in a distant third, after a respectable seven point profit, is Chiatech Password Security, whose shares are now worth sixty-four NPs each. Rising to fourth place are up-and-comers Jacko and Sons Painting, who were able to reverse a three week losing streak to skyrocket an impressive twenty-four points, our biggest gainer of the week. Rounding out the top five were The Smuggler's Cove who, despite a whopping twenty-six point loss, were still worth forty-three NPs a share at the time of Friday's closing bell.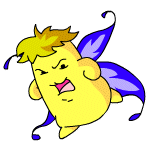 So then, as this edition of the Neopian News Brief draws to a close, it seems that investors have a number of tough questions to ponder. With Fish Pops! tanking for the second straight week, does Chiatech really have what it takes to make a run and surge into the economic elite? After all, this is a company that, in two months of steadily climbing, has yet to post a gain of more than sixteen NPs in one week. Can they really set their sights on a company that's thirty-two points away and move in for the kill? Also, what about Jacko and Sons? Are they merely another one week wonder, or are these guys for real? Lastly, what about the Smuggler's Cove? Do they have the fortitude to dust themselves off and make another run, or will they crumble under the weight of such a huge loss? We'll just have to wait and see....