Illustrations by theeaterofworlds
"Hurry along now little ones, try to stay with the group," said the striped Wocky tour guide with an out of place southern accent.

      Lavender the baby Usul tightly clung to her Ladybird Usuki doll as she quickly followed the tour guide through the dank tomb. Her class was on a field trip today, they were visiting the Valley of the Pharaohs, burial ground of the Lost Desert's greatest kings and queens.

      "Coming up around the corner you'll see the burial tomb of Nefert the gold Gelert, daughter of the Queen and High Priestess Nakht the Kyrii and King Khu the Kougra, who ruled over the ninth dynasty," said the tour guide with great anticipation in her voice.

      Sapphire the baby Kau nervously tugged on Lavender's tail bow, "Lavender, wait up!" she cried.

      Sapphire huddled close to Lavender, "It-it sure is spooky down here…" she stuttered. "I-I hate the dark, you never know when the-the Ghost Lupe will come out and get you…."

      Lavender rolled her eyes, "You're so childish, Sapphire. The Ghost Lupe will not get us, not as long as I have my trusty Ladybird Usuki doll to protect me," she boasted.

      Sapphire's eyes widened, "You-you mean your Ladybird Usuki doll really protects you from the Ghost Lupe?" she asked in awe.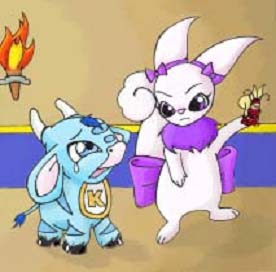 "Yep," answered Lavender with smug pride.
      Sapphire reached out slowly, "Can-can I hold it… please?" she begged.
      Lavender stopped and quickly moved the Usuki doll out of Sapphire's reach, "Ew, no!" she said in disgust.
      "But, Lavender, I'm so scared… please… just for a little while?" begged Sapphire as she trembled in fear.
      "And let you muck it up with your dirty Kau hooves?! I don't think so, get your own!" shouted Lavender.
      Sapphire's eyes filled with tears, she couldn't believe what Lavender had just said.
      Lavender turned around and crossed her arms, "My mommy got this doll for ME, no one else!" she said.
      Sapphire's lip trembled as she choked back tears. She grew angry at Lavender, at her cruel remarks. Sapphire summoned all her courage and stomped her hoof on the stone floor in anger.
      "You're so mean…" said Sapphire with a heavy snort. "One of these days Lavender… your selfishness will get you into a lot of trouble… and… and then you'll be sorry…."
      Lavender blinked as she watched Sapphire walk into the dim, stone corridor.
      "You'll be sorry…."
      Lavender chuckled at Sapphire's out burst, "Such a baby!" she said.
      Suddenly, Lavender heard a noise in the darkness behind her. She tightly clung to her Ladybird Usuki doll and quickly caught up with the tour group, who had stopped in the corridor. Lavender pushed and shoved her way to the front, but paused in awe.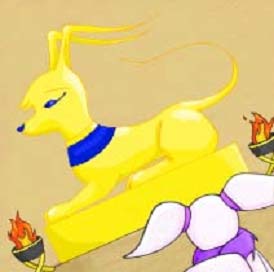 Standing before her was a stunning twelve foot tall statue of a beautiful gold Gelert. It was standing in the center of a large tomb surrounded with marvelous artifacts embedded with jewels and gold.
      "This is the burial tomb of Nefert, the only daughter of King Khu and Queen Nakht," said the tour guide. "Legend says that Queen Nakht envisioned that her daughter would conquer all of Neopia, but due to curse this little beauty was never seen again. King Khu built this tomb in his daughter's memory."
      The children began to explore the exhibit freely as the tour guide explained Nefert's life in depth. Lavender slowly looked everything over in quiet curiosity.
      This girl had everything, thought Lavender. I want to be a princess… that way I'll have everything a girl like me is suppose to have...
      Slowly, Lavender noticed something out of place in this dazzling room of gold and jewels. Hidden behind the gold statue of Nefert was a small hole, inside the hole was a tattered, ashen colored Usul doll. Lavender narrowed her eyes against the dim lighting as she stepped in for a closer inspection. The doll was clearly hand made, stitched together from other pieces of fabric, but what caught Lavender's attention was that this doll had no face, just stitches where her mouth once was.
      "What a strange doll," said Lavender out loud as she reached for the doll.
      Suddenly, Lavender began to feel a strange warmth creep up her arm as her finger tips hovered over the doll. Then, slowly, the warmth surrounding the doll began to get hotter as it quickly engulfed Lavender completely. She closed her eyes, shielding them from the intense heat.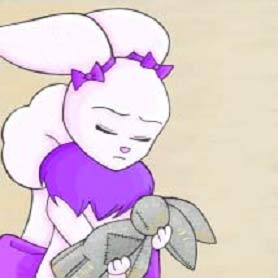 What's happening, thought Lavender. I feel so warm… so hot?
      Lavender could hear a flute playing in her mind as a woman's voice filled her ears with an ancient song, a haunting melody that echoed in the air. Her dark purple eyes shot open, pupils dilated as wide as they could be. These dark pools stared blankly into nothingness as Lavender open her tiny mouth to whisper…
      Aneksi… you belong to me…. all belong to me… for I… am your princess!
      Right at that moment, Lavender snatched the Usul doll from the crevice and ran franticly from the tomb, leaving her Usuki doll behind.
      "You belong to me! Me and only me!" shouted Lavender, her hysterical voice echoed off the stone walls. "Mine, all mine!"
      Lavender ran blindly through the passageways deeper and deeper into the dank catacombs. Water trickled down the sides of the uneven walls and collected into large, murky puddles on the ground. She hastily splashed through them, staining her soft fur with muddy water. Lavender was well below the water table, lost in an endless sea of dark corridors that lead to nowhere, but Lavender didn't care. The Usul doll was in her arms and as long as it stayed that way, nothing else mattered in the world.
      Lavender glanced over her shoulder to see if she was followed, as suspected, no one had noticed she was gone. She slowly came to a stop to catch her breath. Lavender leaned against the wall panting heavily. The air was stale, thick with the smell of mildew. Lavender felt light headed, the corridor began to spin as she looked at the limp Usul doll in her hand.
      The Usul doll unexpectedly sat up. Lavender gasped in shock and hurled the doll away from her. It skidded across the floor and landed with a flop in a muddy puddle. Lavender looked at the lifeless doll in shock.
      Is my mind playing tricks on me, thought Lavender. Did that doll really move?
      Slowly, the Usul doll lifted it's self off the ground and looked up at Lavender. It twisted its head slightly as Lavender pressed herself against the wall in horror.
      "No, it's not real… it's not real!" shouted Lavender in utter terror.
      The Usul doll slowly ripped the stitches out from around its mouth and exhaled with a long, hissing sigh. Filthy water dripped down the doll's body as it stepped closer to Lavender.
      "A beauty born from darkness shall never conquer… curse the beauty Nefert!" whispered the doll. "Fall great beauty, for the world does not belong to you…." Suddenly, the Usul doll pounced on Lavender, clinging tightly to her face. It quickly stretched out its arms and began to wrap around Lavender's head like gauze.
      "Sleep forever great beauty… for Aneksi stops your dreams of evil…"
      Lavender screamed in horror as she pried the doll off her face and flung it onto the floor, panting heavily. She quickly ran away from the Usul doll before it could get up again. Lavender rounded a corner; she could hear the doll chanting those same words over and over again. They echoed off the walls and bounced back to Lavender like a deafening explosion.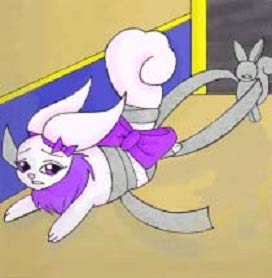 All of a sudden, Lavender came to a screeching halt. There, standing at the edge of the catacomb, was the Usul doll. It swung its arms like whips in the air, and then launched them screaming toward Lavender. Lavender turned to run, but it was too late; the gauze like cloth snared her ankle and dragged her back to the Usul doll kicking and screaming. The gauze from the doll wrapped around Lavender completely, mummifying her alive. The Usul doll latched Lavender against the wall with a mess of gauze webbing and mud.
      Lavender's muffled whimpers fell on deaf ears as she stared down at the now lifeless Usul doll. It lay in a rippling, muddy puddle at her feet. Slowly, the image of a beautiful Golden Gelert appeared in Lavender's reflection then disappeared as the voice of the Usul doll echoed in her mind.
      "Fall great beauty, for the world does not belong to you...."
The End